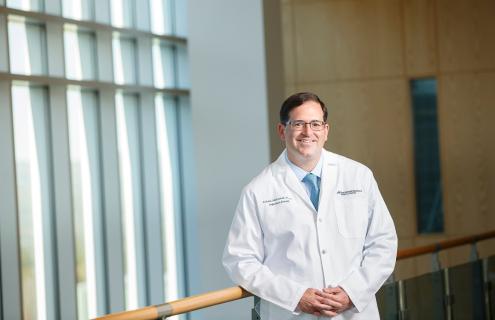 As the national public health emergency relating to the COVID-19 pandemic comes to an end on May 11, 2023, Michael S. Calderwood, MD, MPH, chief quality officer at Dartmouth Health's Dartmouth Hitchcock Medical Center, provides a COVID-19 update.
Worldwide, there have been 6.9 million COVID-19 deaths officially reported, with an estimate that the true death toll is actually closer to 22 million. COVID-19 remained the third-leading cause of death in the United States in 2022, due to the early Omicron period, but it is now down to the eighth-leading cause of death in the past month. Thankfully, the mortality associated with COVID-19 among those who are hospitalized has also continued to decline, with newer variants, increasing immunity, and better therapies.
Cases trending downward
In the United States in April 2023, there were an average of 12,911 hospital admissions per week with COVID-19 and an average of 1,342 deaths per week attributed to COVID-19. To understand how far we have come, it is important to look back.
In the winter of 2020-2021, we reached a peak of 133,000 patients hospitalized with COVID-19, with close to 70% of ICU beds occupied by COVID-19 patients, and it took only five weeks for 100,000 deaths attributed to this disease. A year later, during the initial wave of the Omicron variant, we reached a peak of 155,000 patients hospitalized with COVID-19, with around 64% of ICU beds occupied by COVID-19 patients, and we experienced 100,000 deaths over an eight-week period.
At the population level last week in the United States, there was a three-in-100,000 chance of being hospitalized and a four-in-1,000,000 chance of dying from COVID-19. This is the risk for a single week, and the numbers continue to decline.
Much like we do for other viruses that have a constant presence in our community, we will continue to track local testing trends and hospitalizations closely. The best measure for assessing community levels of COVID-19 is the number of hospital admissions per 100,000 over a seven=day period..
Over the long run
The lasting impact of long COVID, also known as Post-Acute COVID Syndrome (PACS), remains unknown. In June, 2022, it was estimated that approximately 18 million people reported experiencing long COVID, with 4.6 million having day-to-day activities impacted "a lot." The prevalence was reported as 50% less in those who had received at least one vaccine booster.
Vaccine recommendations
The Centers for Disease Control and Prevention (CDC) approved new recommendations to allow for an additional bivalent mRNA COVID-19 vaccine dose for adults age 65 years and older, and additional doses for people who are immunocompromised. This allows more flexibility for healthcare providers to administer additional doses as needed.
For those who are not age 65 years and older or immunocompromised, an additional dose is not needed at this time if you already received a dose of the bivalent vaccine. The CDC recommends that everyone age six years and older receive the bivalent vaccine, regardless of whether they previously completed their monovalent primary series.
Thankfully, studies have shown a sustained level of neutralizing antibodies extended out to 250 days after dose #3 of the vaccine. The COVID-19 vaccine is expected to be an annual vaccine, much like the influenza vaccine.
To mask, or not to mask?
Masks were a critical part of our response to the pandemic, and I do recognize that the dialogue around them has become quite heated. Change can be hard, and it is important to acknowledge the impact that this pandemic has had on so many in our communities. It is also important to acknowledge that there has been a high risk of bias in the trials evaluating the effect of masks, variation in what has been measured in terms of transmission metrics, and relatively low adherence in many community settings limiting conclusions. It is estimated that masks may have prevented anywhere from 550,000 to 2.5 million U.S. cases per week in January 2022, at the height of the Omicron surge. Similarly, while "lock-downs" are no longer in effect, and no longer make sense, they were important earlier in the pandemic. Without indoor closures, it is estimated that COVID-19 deaths in the U.S. would have been double the 700,000 deaths attributed to COVID in 2020.
I recently joined a group of hospital epidemiologists to write an opinion piece for the Annals of Internal Medicine, concluding that, "The time has come to de-implement policies that are not appropriate for an endemic pathogen when the expected benefits of such policies are low. Universal masking in healthcare is a policy whose time has come and gone ... for now." There may be times, though, when universal masking is again indicated in the future as part of a bundled response to a future pandemic or significant localized outbreaks.
Thank you
As we come to the end of the public health emergency, I want to take a moment to offer thanks to all of the healthcare workers who provided care, support, guidance, and expertise in uncertain times. This includes the teams providing clinical care for those presenting with COVID-19, those who ensured a safe care environment throughout the pandemic, laboratory scientists and staff that developed rapid testing critical to our ability to mitigate further spread, all those who worked to rapidly roll out vaccines and therapies, and the experts who worked to provide clear and honest dialogue about what was known and how we were responding. One of the many lessons that we have learned is that we are strongest when we work together.
For more information, including graphics and cited sources, please visit the New Hampshire Medical Society's COVID-19 Update page.
About Dartmouth Health
Dartmouth Health, New Hampshire's only academic health system and the state's largest private employer, serves patients across northern New England. Dartmouth Health provides access to more than 2,000 providers in almost every area of medicine, delivering care at its flagship hospital, Dartmouth Hitchcock Medical Center (DHMC) in Lebanon, NH, as well as across its wide network of hospitals, clinics and care facilities. DHMC is consistently named the #1 hospital in New Hampshire by U.S. News & World Report, and recognized for high performance in numerous clinical specialties and procedures. Dartmouth Health includes Dartmouth Cancer Center, one of only 56 National Cancer Institute-designated Comprehensive Cancer Centers in the nation, and the only such center in northern New England; Dartmouth Health Children's, which includes Children's Hospital at Dartmouth Hitchcock Medical Center, the state's only children's hospital, and multiple clinic locations around the region; member hospitals in Lebanon, Keene and New London, NH, and Bennington and Windsor, VT; Visiting Nurse and Hospice for Vermont and New Hampshire; and more than 24 clinics that provide ambulatory services across New Hampshire and Vermont. Through its historical partnership with Dartmouth and the Geisel School of Medicine, Dartmouth Health trains nearly 400 medical residents and fellows annually, and performs cutting-edge research and clinical trials recognized across the globe with Geisel and the White River Junction VA Medical Center in White River Junction, VT. Dartmouth Health and its more than 13,000 employees are deeply committed to serving the healthcare needs of everyone in our communities, and to providing each of our patients with exceptional, personal care.