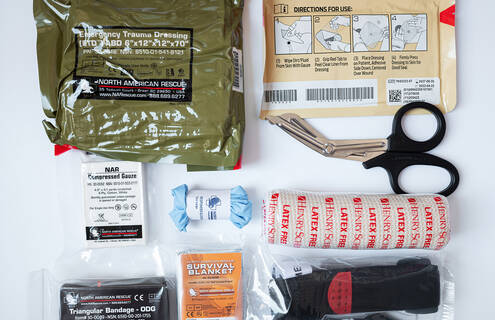 Two Dartmouth Health physicians were instrumental in the recently-passed New Hampshire Senate bill to require trauma kits in state-run facilities. SB 204, which received bipartisan support, will require a trauma kit be installed and readily available for bleeding emergencies in state owned buildings identified as high-traffic places for the public and staff. Examples of these buildings include courthouses, the department of motor vehicles, liquor stores, and the State House.
Sen. Sue Prentiss, D-Lebanon, a paramedic by training, worked with Eric D. Martin, MD, and Alexandra Briggs, MD, both trauma surgeons at Dartmouth Health's Dartmouth Hitchcock Medical Center (DHMC), on the legislation. Prentiss reached out to Martin, who serves as director of New Hampshire's trauma system and chair of the state's trauma medical review committee, for his and Briggs' assistance after they spoke out in support of Stop the Bleed. This program is an effort of the American College of Surgeons to train people in how to stop bleeding in a severely injured person.
"As the only Level 1 trauma center in the state, we see many critically injured people in New Hampshire at DHMC's emergency department," Martin said. "But having the proper initial treatment to stop bleeding when someone is seriously hurt, before they get to the hospital, is crucial to help save lives. Dr. Briggs and I were thrilled to support this effort on the state level to make sure our highest-traffic state-run facilities are equipped with the on hand tools to stop serious bleeding and provide the right care to people in a mass casualty event."
Uncontrolled bleeding due to trauma is the third leading cause of death in New Hampshire between the ages of 1 and 45. This legislation will bring hemorrhage control into the hands of the public, supplying a critical need for New Hampshire and aligning with similar bleeding control efforts nationwide.
"As DHMC has the only Level 1 trauma center in the state, it was an honor to work with Dr. Martin and Dr. Briggs on this legislation as they are leading experts in this area. Placing tourniquets in select state-owned buildings is an essential first step in protecting the public and state employees," Prentiss said. "My hope is that trauma kits will be placed in additional state and local governments, and that schools and the private sector will also see the importance of installing kits in their buildings."
About Dartmouth Health
Dartmouth Health, New Hampshire's only academic health system and the state's largest private employer, serves patients across northern New England. Dartmouth Health provides access to more than 2,000 providers in almost every area of medicine, delivering care at its flagship hospital, Dartmouth Hitchcock Medical Center (DHMC) in Lebanon, NH, as well as across its wide network of hospitals, clinics and care facilities. DHMC is consistently named the #1 hospital in New Hampshire by U.S. News & World Report, and recognized for high performance in numerous clinical specialties and procedures. Dartmouth Health includes Dartmouth Cancer Center, one of only 54 National Cancer Institute-designated Comprehensive Cancer Centers in the nation, and the only such center in northern New England; Dartmouth Health Children's, which includes Children's Hospital at Dartmouth Hitchcock Medical Center, the state's only children's hospital, and multiple clinic locations around the region; member hospitals in Lebanon, Keene and New London, NH, and Bennington and Windsor, VT; Visiting Nurse and Hospice for Vermont and New Hampshire; and more than 24 clinics that provide ambulatory services across New Hampshire and Vermont. Through its historical partnership with Dartmouth and the Geisel School of Medicine, Dartmouth Health trains nearly 400 medical residents and fellows annually, and performs cutting-edge research and clinical trials recognized across the globe with Geisel and the White River Junction VA Medical Center in White River Junction, VT. Dartmouth Health and its more than 13,000 employees are deeply committed to serving the healthcare needs of everyone in our communities, and to providing each of our patients with exceptional, personal care.