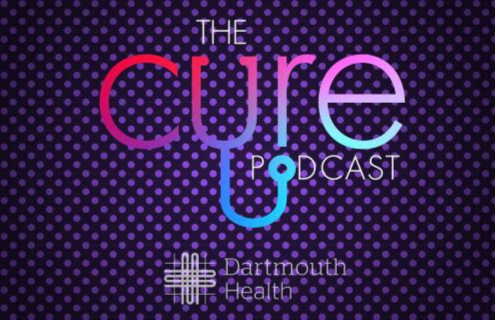 As the third year of COVID-19 draws to a close, learn about the future of the pandemic in latest episode of Dartmouth Health's "The Cure Podcast"
The United States is currently experiencing an early uptick in influenza and respiratory syncytial virus (RSV) infections, straining healthcare systems trying to recover from the worst of the COVID-19 pandemic. At the same time, healthcare facilities are struggling to keep up with ever-evolving guidelines from the Centers for Disease Control and Prevention, the Centers for Medicare & Medicaid Services, and the Occupational Safety and Health Administration.
In the newest episode of Dartmouth Health's "The Cure Podcast," hosts Jose R. Mercado, MD, regional medical director for inpatient quality at Dartmouth Health, and Jessica L. Swain, director of infection prevention and control at Dartmouth Health, were joined by Erin E. Patnode, BSN, RN, and Mary Curtin Pierce, BSN, RN, both infection preventionists at Dartmouth Health member Cheshire Medical Center, to discuss the latest in COVID-19 infection prevention strategies. Philip Adamo, MD, MPH, section chief and medical director of Occupational and Environmental Health and Wellbeing at Dartmouth Health, also joined the conversation to discuss the evolution of occupational health with regards to COVID-19. Michael S. Calderwood, MD, MPH, chief quality officer for Dartmouth Health member Dartmouth Hitchcock Medical Center (DHMC), offered insights around vaccination and the future of the COVID-19 management.
Listen to episode 25 of "The Cure Podcast".
"The latest CDC guidance has updated to allow facilities to flex when community transmission levels are low. Most of the U.S., including New Hampshire and our neighboring states, are in the red," Patnode said. "At Dartmouth Health facilities, our guidance remains unchanged. We continue to follow the CDC guidance for masking, requiring universal source control, especially in public areas or when patients are being encountered."
"The Cure" also recently released an episode on colonoscopy screening, following the publication of European research showing a relatively similar risk of death from colorectal cancer between screened and unscreened populations. This episode features DHMC gastroenterologist Audrey H. Calderwood, MD, MS, and may be accessed here.
Subscribe to "The Cure" wherever you get your podcasts. Visit "The Cure" web page for all episodes.
About Dartmouth Health
Dartmouth Health, New Hampshire's only academic health system and the state's largest private employer, serves patients across northern New England. Dartmouth Health provides access to more than 2,000 providers in almost every area of medicine, delivering care at its flagship hospital, Dartmouth Hitchcock Medical Center (DHMC) in Lebanon, NH, as well as across its wide network of hospitals, clinics and care facilities. DHMC is consistently named the #1 hospital in New Hampshire by U.S. News & World Report, and recognized for high performance in numerous clinical specialties and procedures. Dartmouth Health includes Dartmouth Cancer Center, one of only 54 National Cancer Institute-designated Comprehensive Cancer Centers in the nation, and the only such center in northern New England; Dartmouth Health Children's, which includes Children's Hospital at Dartmouth Hitchcock Medical Center, the state's only children's hospital, and multiple clinic locations around the region; member hospitals in Lebanon, Keene and New London, NH, and Bennington and Windsor, VT; Visiting Nurse and Hospice for Vermont and New Hampshire; and more than 24 clinics that provide ambulatory services across New Hampshire and Vermont. Through its historical partnership with Dartmouth and the Geisel School of Medicine, Dartmouth Health trains nearly 400 medical residents and fellows annually, and performs cutting-edge research and clinical trials recognized across the globe with Geisel and the White River Junction VA Medical Center in White River Junction, VT. Dartmouth Health and its more than 13,000 employees are deeply committed to serving the healthcare needs of everyone in our communities, and to providing each of our patients with exceptional, personal care.