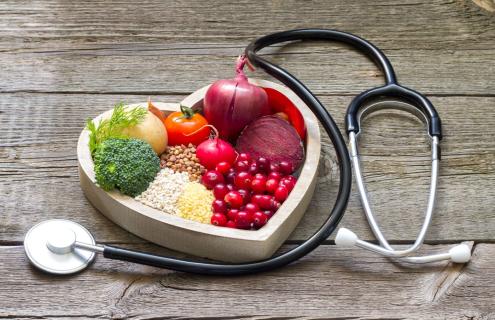 As American Heart Month winds down, it's important to remember that cardiovascular health is crucial every month of the year. While we spend a lot of time during Heart Month talking about heart disease or the importance of learning CPR in case cardiac events occur, of equal importance is taking steps to keep your heart healthy and prevent issues from occurring later. One of the best ways to do this is eating a heart-healthy diet—and it doesn't have to be intimidating or difficult.
"The very first thing I talk about with cardiac rehab patients as they learn about a heart-healthy diet is eating all the food groups," said Amy L. Ansaldo, RD, a registered dietitian at Dartmouth Health's Cheshire Medical Center, who provides nutritional care for inpatients and gives classes for those in cardiac and pulmonary rehabilitation. "Talking about the role of all the foods we find on the planet is important because fad diets get so sensationalized in the media that people don't know what to believe anymore."
Ansaldo offers the following five easy tips for making food choices that support a healthy heart that are easy to keep up with all year long.
Limit salt intake: The biggest thing to pay attention to is sodium. "We can't live without it, but too much sodium causes many health issues," says Ansaldo. While Americans eat an average of 4,000 milligrams daily, a heart-healthy recommendation is 2,300 milligrams or about a teaspoon. This is easy to estimate when cooking, but eating prepared foods requires careful label-reading.
Eat mostly at home: Preparing your own meals puts you in control of your heart health. For the latest in research-based heart-healthy nutrition, the American Heart Association offers shopping tips, recipes, infographics, and even whole cookbooks that support home cooking for a healthy diet.
Maintain a balanced diet: Eating a variety of different foods is key. "Our body uses all the food groups for different purposes: energy, rebuilding, cell and skin integrity," says Ansaldo. "My goal with patients is to move towards a wide variety of fresh foods rather than prepared foods." Smartphone apps can be helpful; Ansaldo likes one called Chronometer which calculates more than just calories and includes a larger variety of fresh food sources.
Don't fall for myths: Food sources and information in the United States differ from those in many other countries, thanks to food industry lobbyists vying for the greatest profitability. "There is so much industry money involved in food sourcing," says Ansaldo. "It's become really important to pay attention to what we're eating and where your food comes from." Learn more from the Center for Science in the Public Interest.
Eat local: Buying and preparing your own fresh food—the fresher, the better—is a giant step toward a heart-healthy diet. Farm stands, CSAs (community-supported agriculture), and food co-ops are great places to find fresh, local food.
"Once you know the food items that are the healthier choice for your life and body, choosing heart-healthy foods just becomes a good habit you cultivate," Ansaldo said.
About Dartmouth Health
Dartmouth Health, New Hampshire's only academic health system and the state's largest private employer, serves patients across northern New England. Dartmouth Health provides access to more than 2,000 providers in almost every area of medicine, delivering care at its flagship hospital, Dartmouth Hitchcock Medical Center (DHMC) in Lebanon, NH, as well as across its wide network of hospitals, clinics and care facilities. DHMC is consistently named the #1 hospital in New Hampshire by U.S. News & World Report, and recognized for high performance in numerous clinical specialties and procedures. Dartmouth Health includes Dartmouth Cancer Center, one of only 54 National Cancer Institute-designated Comprehensive Cancer Centers in the nation, and the only such center in northern New England; Dartmouth Health Children's, which includes Children's Hospital at Dartmouth Hitchcock Medical Center, the state's only children's hospital, and multiple clinic locations around the region; member hospitals in Lebanon, Keene and New London, NH, and Bennington and Windsor, VT; Visiting Nurse and Hospice for Vermont and New Hampshire; and more than 24 clinics that provide ambulatory services across New Hampshire and Vermont. Through its historical partnership with Dartmouth and the Geisel School of Medicine, Dartmouth Health trains nearly 400 medical residents and fellows annually, and performs cutting-edge research and clinical trials recognized across the globe with Geisel and the White River Junction VA Medical Center in White River Junction, VT. Dartmouth Health and its more than 13,000 employees are deeply committed to serving the healthcare needs of everyone in our communities, and to providing each of our patients with exceptional, personal care.