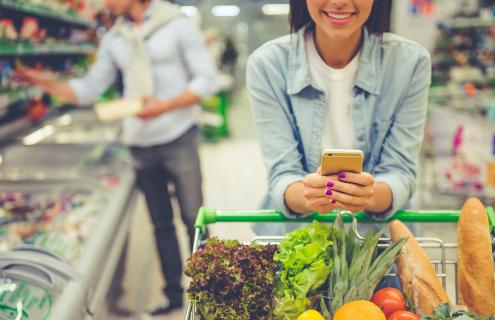 Cheshire Medical Center to host "Navigating the Supermarket: Tips and Tricks for Healthier Shopping" on March 9
Everyone is feeling the pinch of higher costs of essential items like groceries, thanks to inflation. Higher costs for healthy, less processed foods already make them inaccessible for people with lower incomes, and with the current surge in prices, it's getting even harder for many families to put nutritious meals on the table.
"There are so many barriers to eating well, and cost is a huge one," said Heather M. Ashcraft, MS, RDN, LDN, a registered dietitian at Dartmouth Health's Cheshire Medical Center. "People also have the expectation that eating right is going to take a ton more time, and that they are going to have to eat things that they don't like. And that it's expensive."
With a bit of planning and research, it is possible to buy and prepare health-conscious food while staying on a budget. Ashcraft offers the following tips for balanced meals that won't break the bank.
The less processed, the better: Ashcraft recommends purchasing foods that are as unprocessed as possible. "Take a step back and get as close as you can to things that come right from the ground," she said. "I like the idea of frozen fruits and veggies because it's the best of both worlds: you get something that's a healthier choice, but you also get something that requires less effort on your part."
Incorporate more legumes: "For the same price as a bag of cheese puffs, you could get two pounds of beans and have enough protein for the whole family for days," Ashcraft said. She recommends substituting dried beans or lentils instead of meat for a great source of protein a few times a week. "If you miss meat, it can be used more as a seasoning with the protein focus being on the legumes," she said.
Think locally: In many communities, the extension offices of local universities, which offer classes to residents interested in learning new skills or information, often have classes that teach techniques for preserving and stretching foods. The University of New Hampshire Extension even has online resources for making simple, healthy and delicious meals with items that many people already have in their kitchen or can easily get at a local food pantry.
There's an app for that: Smartphone apps like the United States Department of Agriculture's MyPlate offer resources for planning, shopping, and cooking healthy meals on a budget.
For those looking for more resources, Ashcraft will host an in-person presentation on Thursday, March 9, at Cheshire Medical Center, located at 580 Court St. in Keene, NH, in Auditorium A. "Navigating the Supermarket: Tips and Tricks for Healthier Shopping" is free to attend.
"You are what you eat," Ashcraft said. "Nutrition is what makes you, so making healthy food choices is important for your health."
About Dartmouth Health
Dartmouth Health, New Hampshire's only academic health system and the state's largest private employer, serves patients across northern New England. Dartmouth Health provides access to more than 2,000 providers in almost every area of medicine, delivering care at its flagship hospital, Dartmouth Hitchcock Medical Center (DHMC) in Lebanon, NH, as well as across its wide network of hospitals, clinics and care facilities. DHMC is consistently named the #1 hospital in New Hampshire by U.S. News & World Report, and recognized for high performance in numerous clinical specialties and procedures. Dartmouth Health includes Dartmouth Cancer Center, one of only 56 National Cancer Institute-designated Comprehensive Cancer Centers in the nation, and the only such center in northern New England; Dartmouth Health Children's, which includes Children's Hospital at Dartmouth Hitchcock Medical Center, the state's only children's hospital, and multiple clinic locations around the region; member hospitals in Lebanon, Keene and New London, NH, and Bennington and Windsor, VT; Visiting Nurse and Hospice for Vermont and New Hampshire; and more than 24 clinics that provide ambulatory services across New Hampshire and Vermont. Through its historical partnership with Dartmouth and the Geisel School of Medicine, Dartmouth Health trains nearly 400 medical residents and fellows annually, and performs cutting-edge research and clinical trials recognized across the globe with Geisel and the White River Junction VA Medical Center in White River Junction, VT. Dartmouth Health and its more than 13,000 employees are deeply committed to serving the healthcare needs of everyone in our communities, and to providing each of our patients with exceptional, personal care.