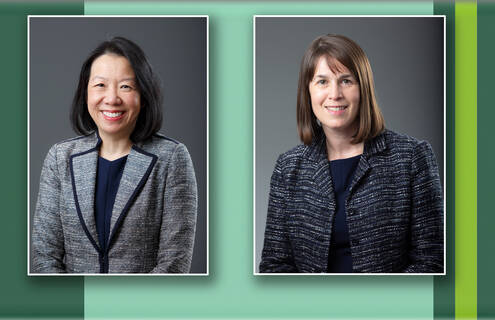 Two physician leaders at Dartmouth Health's Dartmouth Hitchcock Medical Center (DHMC) have been accepted into the 2023-2024 class of fellows in the Hedwig van Ameringen Executive Leadership in Academic Medicine (ELAM) program and the Executive Leadership in Health Care (ELH) program at Drexel University College of Medicine. Sandra L. Wong, MD, MS, is chair of the department of surgery, and Christine T. Finn, MD, is vice chair of clinical services in the department of psychiatry.
ELAM, which prepares women for senior leadership roles in schools of medicine, dentistry, public health and pharmacy, develops the skills required to lead and manage in today's complex healthcare environment. ELH is designed for senior-level women leaders interested in advancing in hospitals and healthcare systems to C-suite positions. ELAM and ELH alumnae number more than 1,300 and serve in leadership positions at over 300 academic health centers worldwide.
In a highly competitive selection process, Wong, a surgical oncologist by training, was one of 96 fellows, and Finn, a psychiatrist, one of 45 fellows accepted into this year's ELAM and ELH classes, respectively, from the largest pool of applicants in the programs' history.
"I'm excited to participate in ELAM and join a tremendous learning community," said Wong, who is the William N. and Bessie Allyn Professor of Surgery at Geisel School of Medicine at Dartmouth. "A big bonus is being able to work on a capstone project which will benefit Dartmouth Health."
"I'm honored to be chosen to participate in ELH and thank Dartmouth Health's president and CEO, Joanne Conroy, MD, for her sponsorship of me for the program," said Finn, who is an associate professor of psychiatry at Geisel. "I believe the experiences this year will help me expand my foundational leadership skills, as well as provide me with peers and mentors to learn with and from. I look forward to applying my new knowledge in my leadership roles at DHMC."
Beginning this summer and continuing through the end of the program in April 2024, women selected for the ELAM and ELH programs will engage in a variety of assignments and community building activities including an action project at their home institution, developed in collaboration with the fellow's dean or other senior official.
"We are extremely excited to see the impact these women will have on their institutions as they work through the ELAM and ELH curriculum and develop their action projects," said Nancy Spector, MD, executive director of ELAM and ELH. "The projects the fellows conduct not only help them understand the challenges facing academic health centers and the skills a leader must possess to address these challenges, but also often result in concrete changes at their institutions."
About Dartmouth Health
Dartmouth Health, New Hampshire's only academic health system and the state's largest private employer, serves patients across northern New England. Dartmouth Health provides access to more than 2,000 providers in almost every area of medicine, delivering care at its flagship hospital, Dartmouth Hitchcock Medical Center (DHMC) in Lebanon, NH, as well as across its wide network of hospitals, clinics and care facilities. DHMC is consistently named the #1 hospital in New Hampshire by U.S. News & World Report, and recognized for high performance in numerous clinical specialties and procedures. Dartmouth Health includes Dartmouth Cancer Center, one of only 54 National Cancer Institute-designated Comprehensive Cancer Centers in the nation, and the only such center in northern New England; Dartmouth Health Children's, which includes Children's Hospital at Dartmouth Hitchcock Medical Center, the state's only children's hospital, and multiple clinic locations around the region; member hospitals in Lebanon, Keene and New London, NH, and Bennington and Windsor, VT; Visiting Nurse and Hospice for Vermont and New Hampshire; and more than 24 clinics that provide ambulatory services across New Hampshire and Vermont. Through its historical partnership with Dartmouth and the Geisel School of Medicine, Dartmouth Health trains nearly 400 medical residents and fellows annually, and performs cutting-edge research and clinical trials recognized across the globe with Geisel and the White River Junction VA Medical Center in White River Junction, VT. Dartmouth Health and its more than 13,000 employees are deeply committed to serving the healthcare needs of everyone in our communities, and to providing each of our patients with exceptional, personal care.