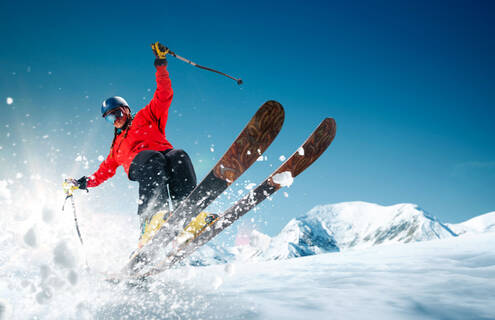 ACL injuries can be devastating, which is why prevention is vital. By working on strength, balance, plyometrics, and body awareness, people can guard against possible ACL tears.
Neal Goldenberg, MD
With winter a few months away, Cheshire Medical Center, a Dartmouth Health member, will host a free community health education class, Knees and Skis, on Thursday, Oct. 5, from 5 to 6 pm at the hospital's main campus at 580 Court Street in Keene. The session will be held in North Conference Rooms 1 and 2. Knee injuries are among the most common during skiing, snowboarding, and other winter activities. Neal Goldenberg, MD, chair of Sports Medicine at Cheshire, will share tips to prevent these injuries and what to do if you experience knee pain. To register, visit cheshiremed.org/events.
Goldenberg specializes in knee and shoulder reconstruction surgeries, cartilage restoration, and meniscus repair. He says Cheshire's Sports Medicine team has seen an increase in knee injuries over the past few years. Specifically, Goldenberg hopes to reduce the wave of ACL (anterior cruciate ligament) injuries his team sees at the beginning of each ski season. 
"ACL injuries can be devastating, which is why prevention is vital," Goldenberg says. "By working on strength, balance, plyometrics, and body awareness, people can guard against possible ACL tears."
Tears in the ACL, located in the center of the knee, relate to knee joint stabilization during cutting and pivoting movements. ACL injuries can occur to anyone at any age, but the highest-risk age group is 14 to 25 because they tend to be more active. ACL injuries are 2 to 6 times more common in females than males.
During this presentation, Goldenberg will cover a range of other possible ski-related injuries, corresponding assessments, and recommendations for care. While stressing injury prevention, Goldenberg can reassure athletes that the Orthopeadic teams at Cheshire Medical Center and other Dartmouth Health members provide world-class care close to home.
"With prehab, modern surgical techniques available at Cheshire, and rehab protocols, our surgeons and Sports Medicine trained physical therapists really do a great job at getting patients ready to return to sports safely," says Goldenberg.
For a knee injury assessment with Cheshire Medical Center's Orthopaedics department, call 603-354-5482 or talk to your primary care provider. If you want Cheshire Medical Center's Sports Medicine team to help create an injury prevention program for you or a team, please call Sports Medicine at 603-354-5454 ext. 3730.
About Cheshire Medical Center
Cheshire Medical Center (Cheshire) is a Dartmouth Health member providing the communities in the Greater Monadnock Region a continuum of care spanning primary care and specialty medicine, to surgical services and acute inpatient care. For more than 130 years, Cheshire has been a key contributor to the health and vitality of the Monadnock Region. As a not-for-profit community medical center, Cheshire is deeply committed to delivering excellent care in a safe and welcoming environment. Cheshire is dedicated to being a great neighbor and serves as an integral community resource. Cheshire is the area's largest healthcare provider and leading employer. Along with the services delivered on their Keene campus and satellite locations, the Medical Center partners with local organizations to provide vital services and programs throughout the region. To learn more, call 603-354-5400 or visit the Cheshire Medical Center website.