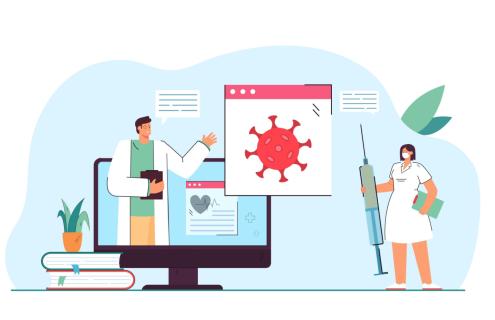 Tremendous strides have been made in the treatment and management of COVID-19 in under three years. Vaccination against the virus has proven incredibly effective at boosting immunity and preventing extreme illness, hospitalization and death from COVID-19 infection. For most people, at this point, being fully vaccinated allows them to largely return to their "normal" lives. However, maintaining a fully vaccinated status means getting booster shots as they become available, including the new bivalent booster vaccines now widely available nationwide.
On Tuesday, October 11, at 4 pm, Dartmouth Health will host a free webinar offering information on the bivalent booster vaccines, which will be open to the community. Michael S. Calderwood, MD, MPH, chief quality officer at Dartmouth Hitchcock Medical Center, and Sally A. Kraft, MD, vice president of Population Health at Dartmouth Health, will host the webinar and address the science behind the vaccine, its efficacy, age recommendations and community collaboration and access. Calderwood and Kraft will also take questions from participants.
"The case fatality rate of COVID-19 has dramatically declined, due to less deadly variants and improved population immunity through vaccination and/or infection," Calderwood said. "Our focus at Dartmouth Health at this time is getting the most people up-to-date with vaccination while hoping that we don't experience another winter surge. The bivalent booster vaccines are highly effective against the contagious Omicron strain and are another critical tool in the fight against COVID-19. I hope that people who tune into my conversation with Dr. Kraft will walk away with a better understanding of how vaccines work and how important it is to keep up with boosters to keep COVID-19 at bay."
To attend the webinar, visit the event's Zoom link on Tuesday, October 11, at 4 pm.
About Dartmouth Health
Dartmouth Health, New Hampshire's only academic health system and the state's largest private employer, serves patients across northern New England. Dartmouth Health provides access to more than 2,000 providers in almost every area of medicine, delivering care at its flagship hospital, Dartmouth Hitchcock Medical Center (DHMC) in Lebanon, NH, as well as across its wide network of hospitals, clinics and care facilities. DHMC is consistently named the #1 hospital in New Hampshire by U.S. News & World Report, and recognized for high performance in numerous clinical specialties and procedures. Dartmouth Health includes Dartmouth Cancer Center, one of only 56 National Cancer Institute-designated Comprehensive Cancer Centers in the nation, and the only such center in northern New England; Dartmouth Health Children's, which includes Children's Hospital at Dartmouth Hitchcock Medical Center, the state's only children's hospital, and multiple clinic locations around the region; member hospitals in Lebanon, Keene and New London, NH, and Bennington and Windsor, VT; Visiting Nurse and Hospice for Vermont and New Hampshire; and more than 24 clinics that provide ambulatory services across New Hampshire and Vermont. Through its historical partnership with Dartmouth and the Geisel School of Medicine, Dartmouth Health trains nearly 400 medical residents and fellows annually, and performs cutting-edge research and clinical trials recognized across the globe with Geisel and the White River Junction VA Medical Center in White River Junction, VT. Dartmouth Health and its more than 13,000 employees are deeply committed to serving the healthcare needs of everyone in our communities, and to providing each of our patients with exceptional, personal care.