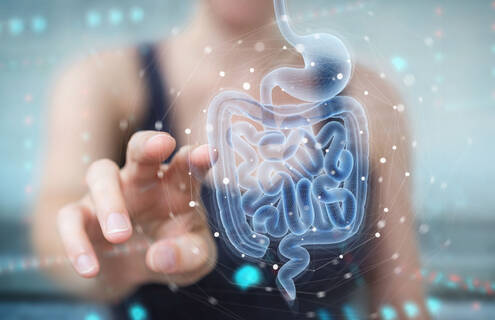 Inflammatory bowel disease (IBD), including Crohn's disease and ulcerative colitis, is a common chronic gastrointestinal disease among teens and young adults. Many young people entering college or moving out of their parents' homes need to manage IBD during their young adult years. Dartmouth Health's Dartmouth Hitchcock Medical Center (DHMC) now offers Teaching Health Resilience in IBD Through Virtual Engagement (THRIVE) as a telehealth clinic to help young adults, between 18 and 26 years old, living with IBD adjust during this time of transition.
"Our new THRIVE Clinic is tailored to the needs of young adults with inflammatory bowel disease with busy schedules and who are navigating transitioning from pediatric to adult care. The clinic aims to not only keep bowel inflammation under control, but also to address the mental health, school and social stressors that can co-exist while living with IBD in early adulthood," said Michael Winter, MD, gastroenterologist at DHMC. "THRIVE provides a multi-disciplinary intake TeleVisit with a gastroenterologist, psychologist and social worker, with pharmacists and nutritionists also available."
The THRIVE Clinic was established with funds received from the Susan & Richard Levy Health Care Delivery Incubator, which supports the development of innovative healthcare delivery solutions. Winter's presented his teams idea during an annual pitch event explaining that suboptimal IBD care in adolescents and young adults can have life-altering impacts, increasing risk for hospitalization, surgery, opioid use disorder and colorectal cancer.
The goal is to provide patients with a comprehensive treatment plan addressing stress, body image concerns, insurance, infusions and injections, review medication concerns and coordinate other services as needed. THRIVE can serve as a sole IBD care provider, or work in collaboration in co-management with a previous gastroenterology care team.
For more information visit the THRIVE Clinic website email thrive@hitchcock.org.
About Dartmouth Health
Dartmouth Health, New Hampshire's only academic health system and the state's largest private employer, serves patients across northern New England. Dartmouth Health provides access to more than 2,000 providers in almost every area of medicine, delivering care at its flagship hospital, Dartmouth Hitchcock Medical Center (DHMC) in Lebanon, NH, as well as across its wide network of hospitals, clinics and care facilities. DHMC is consistently named the #1 hospital in New Hampshire by U.S. News & World Report, and recognized for high performance in numerous clinical specialties and procedures. Dartmouth Health includes Dartmouth Cancer Center, one of only 54 National Cancer Institute-designated Comprehensive Cancer Centers in the nation, and the only such center in northern New England; Dartmouth Health Children's, which includes Children's Hospital at Dartmouth Hitchcock Medical Center, the state's only children's hospital, and multiple clinic locations around the region; member hospitals in Lebanon, Keene and New London, NH, and Bennington and Windsor, VT; Visiting Nurse and Hospice for Vermont and New Hampshire; and more than 24 clinics that provide ambulatory services across New Hampshire and Vermont. Through its historical partnership with Dartmouth and the Geisel School of Medicine, Dartmouth Health trains nearly 400 medical residents and fellows annually, and performs cutting-edge research and clinical trials recognized across the globe with Geisel and the White River Junction VA Medical Center in White River Junction, VT. Dartmouth Health and its more than 13,000 employees are deeply committed to serving the healthcare needs of everyone in our communities, and to providing each of our patients with exceptional, personal care.