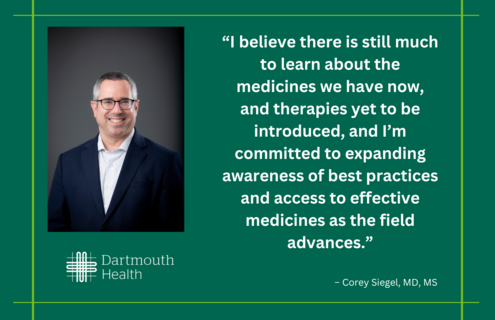 Corey Siegel, MD, MS has been awarded the annual Sherman Prize by the Bruce and Cynthia Sherman Charitable Foundation, recognizing his work in the field of Crohn's disease and ulcerative colitis, also known as inflammatory bowel diseases (IBD). Two $100,000 Sherman Prizes are awarded annually to IBD clinicians, surgeons, researchers and/or academics, recognizing exceptional and pioneering contributions that transform the care of people with IBD. The other Sherman Prize awardee was Thaddeus Stappenbeck, MD, PhD, Sherwick Endowed Chair in Inflammation & Immunity and Chair of Inflammation and Immunity at Cleveland Clinic in Cleveland, OH.
Siegel is the section chief for Gastroenterology and Hepatology, the Co-Director of the IBD Center at Dartmouth Health's Dartmouth Hitchcock Medical Center (DHMC) and the Constantine and Joyce Hampers Professor of Medicine at the Geisel School of Medicine at Dartmouth. Siegel was recently named the Inaugural Director of the Center for Digestive Health at DHMC. The Center for Digestive Health at DHMC is the only multidisciplinary clinic of its kind in New England where comprehensive digestive health services, including gastroenterology, hepatology, weight and wellness and digestive surgery, are available under a single clinical umbrella, creating a seamless patient experience.
Focusing his career on improving patient experience and optimizing care, Siegel is a changemaker who is highly regarded for bringing the science of risk communication to the field of IBD, advancing systematic approaches to quality improvement, and expanding access to high-quality care. To help healthcare providers identify the best treatment options for their patients, Siegel founded a network of IBD professionals when he was a Fellow that has grown into a top-tier panel of international experts called BRIDGe (Building Research in IBD Globally), which researches and formulates recommendations for challenging areas of practice where there are little to no existing data. Through his RADIUS (Rural Advanced Practice Providers Delivering IBD Care in the United States) program, Siegel, along with IBD psychologists, dietitians, pharmacists and nurses at IBD Centers nationally act as 'hubs' to deliver quality care to rural patients who live many hours away through telemedicine in collaboration with their local providers.
"I believe there is still much to learn about the medicines we have now, and therapies yet to be introduced, and I'm committed to expanding awareness of best practices and access to effective medicines as the field advances," said Siegel.
Siegel received his medical degree from Tufts University School of Medicine and completed his residency in internal medicine at DHMC where he also served as chief medical resident. He then completed a fellowship in Gastroenterology at Dartmouth Hitchcock followed by a fellowship in Inflammatory Bowel Disease at Massachusetts General Hospital in Boston. 
About Dartmouth Health
Dartmouth Health, New Hampshire's only academic health system and the state's largest private employer, serves patients across northern New England. Dartmouth Health provides access to more than 2,000 providers in almost every area of medicine, delivering care at its flagship hospital, Dartmouth Hitchcock Medical Center (DHMC) in Lebanon, NH, as well as across its wide network of hospitals, clinics and care facilities. DHMC is consistently named the #1 hospital in New Hampshire by U.S. News & World Report, and recognized for high performance in numerous clinical specialties and procedures. Dartmouth Health includes Dartmouth Cancer Center, one of only 54 National Cancer Institute-designated Comprehensive Cancer Centers in the nation, and the only such center in northern New England; Dartmouth Health Children's, which includes Children's Hospital at Dartmouth Hitchcock Medical Center, the state's only children's hospital, and multiple clinic locations around the region; member hospitals in Lebanon, Keene and New London, NH, and Bennington and Windsor, VT; Visiting Nurse and Hospice for Vermont and New Hampshire; and more than 24 clinics that provide ambulatory services across New Hampshire and Vermont. Through its historical partnership with Dartmouth and the Geisel School of Medicine, Dartmouth Health trains nearly 400 medical residents and fellows annually, and performs cutting-edge research and clinical trials recognized across the globe with Geisel and the White River Junction VA Medical Center in White River Junction, VT. Dartmouth Health and its more than 13,000 employees are deeply committed to serving the healthcare needs of everyone in our communities, and to providing each of our patients with exceptional, personal care.