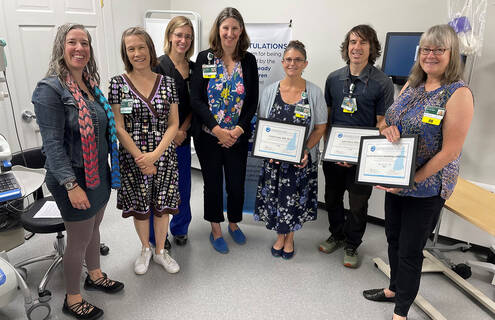 The Emergency Department at Alice Peck Day Memorial Hospital (APD), a member of Dartmouth Health, has been recognized under the Always Ready for Children program offered by New Hampshire EMS for Children, a program of Dartmouth Health.
"Always Ready for Children is a regional program which ensures pediatric care standards are unified across our states with guidance from content experts across the region," said Anna K. Sessa, MA, EMT-P, program manager of New Hampshire EMS for Children. "Participation in recognition programs like Always Ready for Children, which focuses on pediatric readiness, have been shown to decrease mortality, creating a safer patient experience for families."
The New Hampshire EMS for Children Program is dedicated to improving emergency care for children. The program collaborates with families, EMS agencies, hospitals, the Bureau of EMS, and community organizations across the Northeast.
According to the Pediatric Readiness Project, 80 percent of children receive emergency care in general emergency departments, not pediatric emergency departments. General emergency departments primarily treat adults and may not be well prepared for children.
The program starts with an assessment by New Hampshire EMS for Children and provides a toolkit to address identified gaps. APD's Pediatric Emergency Care Coordinator, Justin L. Harris, BSN, RN, a nurse manager and clinical educator, collects data, monitors performance, and ensures adherence to standards.
"Thanks to ongoing education and preparation, we are proud to provide high-quality and compassionate care to our pediatric patients and their families here at APD emergency department," said Jennifer V. Pope, MD, an emergency medicine physician at Dartmouth Health's Dartmouth Hitchcock Medical Center (DHMC) and APD.
In addition to APD and DHMC, other New Hampshire hospitals recognized under Always Ready for Children for their commitment to improving pediatric emergency care include: Androscoggin Valley Hospital, Concord Hospital Franklin and Laconia, Upper Connecticut Valley Hospital, Weeks Medical Center, and Wentworth-Douglas Hospital.
Children with bumps, bruises, coughs, and colds can seek care at APD. Other pediatric emergencies—such as surgical or orthopaedic procedures, specialty services, or inpatient care—are encouraged to go to DHMC.
About Alice Peck Day Memorial Hospital (APD)
Known for highly personalized and high-quality care, APD is the community hospital of the Upper Valley of Vermont and New Hampshire. Founded in 1932 and a member of Dartmouth Health since 2016, APD's areas of clinical excellence include surgical services, primary care, geriatric care, sleep health, orthopaedics, and emergency services. The APD campus is also home to a senior living community with assisted and independent living facilities. Follow us on Facebook, Instagram, LinkedIn, Twitter, and YouTube.