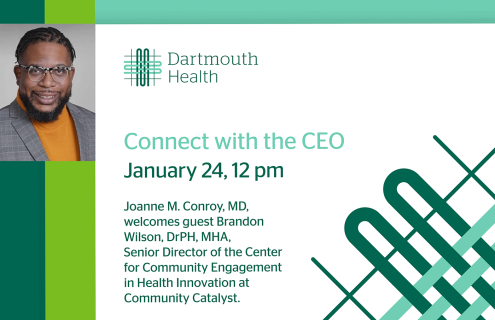 The delivery of healthcare should not be a one-size-fits-all approach. Political determinants of health—the governmental systems, structures, and policies that impact health outcomes—create disparities for people across racial, socio-economic, age, gender, and geographical differences. As the most rural academic medical system in the United States, Dartmouth Health hospitals and clinics face challenges in care delivery related to poverty, access, lacking infrastructure and public transportation, inconsistency in broadband internet connection, and other issues not seen in urban and suburban areas. This is just one example of the considerations healthcare systems must be mindful of when working to improve health equity.
In Dartmouth Health's next "Connect with the CEO" live segment on Tuesday, January 24, at 12 pm, CEO and president Joanne M. Conroy, MD, will be joined by Brandon G. Wilson, DrPH, MHA, Senior Director of the Center for Community Engagement in Health Innovation at Community Catalyst, for a conversation about health equity and health systems innovation. Conroy and Wilson will discuss the importance of person-centered care, disparities in person-centered care and care preferences among different populations, incorporating community voices, co-design, and community-based participatory research into policy design and leadership development, among other topics.
"Last year, I was pleased to join Dr. Conroy and other distinguished panelists for Dartmouth Health's political determinants of health symposium, and I'm excited to sit down virtually with her again to continue our conversation with a focus on the work of health systems in advancing health equity," Wilson said. "Health systems have a unique and critically important role to play in diversity, equity and inclusion work. By recognizing and using indigenous and community-driven approaches to address deficiencies in how they deliver quality care to patients, they have the opportunity to make the communities they serve not just healthier but more just, more responsive, and more accountable to communities and their prioritized needs."
To watch the segment live, visit the Dartmouth Health Facebook page at noon. The chat function on the live video will be open and viewers who are logged into Facebook will be able to submit questions via the chat. For those unable to watch live at noon, an archived version will be available later on Facebook and Dartmouth Health's YouTube channel. Questions may be submitted in advance to social@hitchcock.org.
About Dartmouth Health
Dartmouth Health, New Hampshire's only academic health system and the state's largest private employer, serves patients across northern New England. Dartmouth Health provides access to more than 2,000 providers in almost every area of medicine, delivering care at its flagship hospital, Dartmouth Hitchcock Medical Center (DHMC) in Lebanon, NH, as well as across its wide network of hospitals, clinics and care facilities. DHMC is consistently named the #1 hospital in New Hampshire by U.S. News & World Report, and recognized for high performance in numerous clinical specialties and procedures. Dartmouth Health includes Dartmouth Cancer Center, one of only 56 National Cancer Institute-designated Comprehensive Cancer Centers in the nation, and the only such center in northern New England; Dartmouth Health Children's, which includes Children's Hospital at Dartmouth Hitchcock Medical Center, the state's only children's hospital, and multiple clinic locations around the region; member hospitals in Lebanon, Keene and New London, NH, and Bennington and Windsor, VT; Visiting Nurse and Hospice for Vermont and New Hampshire; and more than 24 clinics that provide ambulatory services across New Hampshire and Vermont. Through its historical partnership with Dartmouth and the Geisel School of Medicine, Dartmouth Health trains nearly 400 medical residents and fellows annually, and performs cutting-edge research and clinical trials recognized across the globe with Geisel and the White River Junction VA Medical Center in White River Junction, VT. Dartmouth Health and its more than 13,000 employees are deeply committed to serving the healthcare needs of everyone in our communities, and to providing each of our patients with exceptional, personal care.