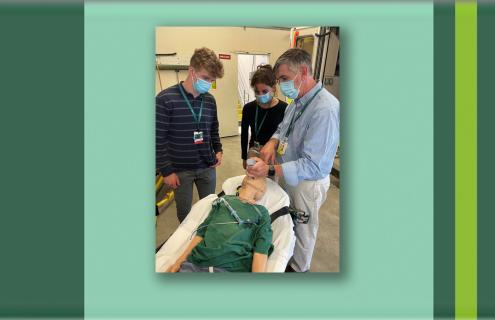 Dartmouth Health will host a Career Expo at Dartmouth Hitchcock Medical Center (DHMC) on Tuesday, May 2, from 3 to 7 pm. With more than 30 exhibitors, the event is an excellent opportunity for high school and college students, parents, educators, job seekers, career changers, and current and future healthcare workers to explore the many careers available in healthcare.
This is no ordinary career fair. It is an event at which people can learn about and explore careers in allied health, nursing, engineering and trades, IT, security, rehabilitation, social work, community health, healthcare operations and administration, as well as paid training programs through Dartmouth Health's Workforce Readiness Institute (WRI). Dartmouth Health education partners, such as Colby Sawyer College, River Valley Community College, Vermont Tech and New England College, will also be on hand to share information about their programs as well as grant funding available to support education and training.
"We are thrilled to be holding this event in person for the first time since 2018," said Carolyn Isabelle, Dartmouth Health director of workforce development. "It is a great opportunity for students, job seekers and educators to come and speak with our teams and education partners. There are so many career opportunities in healthcare, and our Career Expo is a wonderful way for people to explore them right here at the medical center."
Attendees will have the opportunity to participate in hands-on demonstrations and speak with clinicians and other Dartmouth Health team members about careers and career advancement pathways in healthcare. Attendees will also be able to speak with hiring managers and recruiters about open positions within the Dartmouth Health system.
The Dartmouth Health Career Expo is hosted by Dartmouth Health's Workforce Readiness Institute (WRI), a registered career school with the New Hampshire Department of Education. The WRI offers training and career advancement opportunities through comprehensive training and registered apprenticeship programs that offer full-time employment with benefits, as well as experiential learning opportunities for high school and post-secondary students. WRI is currently enrolling for several career training programs, including Ophthalmic Assistant Training Program, Medical Assistant Apprenticeship, Pharmacy Technician Apprenticeship, Phlebotomist Training Program, Surgical Technologist Training Program, LNA Training Program, and others.
For information about the Career Expo and to register, visit the Dartmouth Hitchcock Workforce Readiness Institute website.
About Dartmouth Health
Dartmouth Health, New Hampshire's only academic health system and the state's largest private employer, serves patients across northern New England. Dartmouth Health provides access to more than 2,000 providers in almost every area of medicine, delivering care at its flagship hospital, Dartmouth Hitchcock Medical Center (DHMC) in Lebanon, NH, as well as across its wide network of hospitals, clinics and care facilities. DHMC is consistently named the #1 hospital in New Hampshire by U.S. News & World Report, and recognized for high performance in numerous clinical specialties and procedures. Dartmouth Health includes its Dartmouth Cancer Center, one of only 51 National Cancer Institute-designated Comprehensive Cancer Centers in the nation, and the only such center in northern New England; Dartmouth Health Children's, including the Children's Hospital at Dartmouth Hitchcock Medical Center, the state's only children's hospital and clinic locations around the region; member hospitals in Lebanon, Keene and New London, NH, and Windsor, VT, and Visiting Nurse and Hospice for Vermont and New Hampshire; and more than 24 clinics that provide ambulatory services across New Hampshire and Vermont. Through its historical partnership with Dartmouth and the Geisel School of Medicine, Dartmouth Health trains nearly 400 medical residents and fellows annually, and performs cutting-edge research and clinical trials recognized across the globe with Geisel and the White River Junction VA Medical Center in White River Junction, VT. Dartmouth Health and its more than 13,000 employees are deeply committed to serving the healthcare needs of everyone in our communities, and to providing each of our patients with exceptional, personal care.