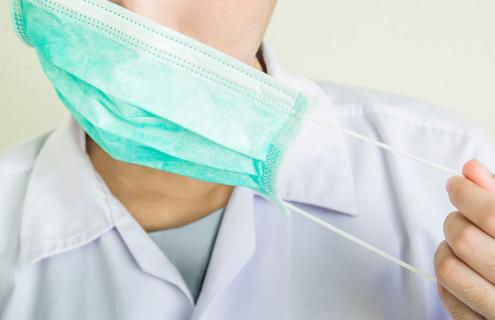 In keeping with the latest science and recommendations of the Centers for Disease Control and Prevention, Dartmouth Health announces new masking guidelines for all facilities that will go into effect on Monday, April 10.
Starting Monday, masking will be optional for asymptomatic employees, patients and visitors in all Dartmouth Health facilities. This guideline applies to private areas (offices and meeting rooms), patient care areas (exam rooms, inpatient rooms), and public spaces (waiting rooms, cafeteria, nurses' stations, hallways, etc.). For people entering Dartmouth Health facilities while exhibiting symptoms of COVID-19, masking will be required at all times in both public and private areas.
These updates to the masking policy follow extensive review by Dartmouth Health's COVID-19 Operations Group. They are possible due to high vaccination rates, low community transmission and increased public immunity. Dartmouth Health will continue to closely monitor the data and, should there be an unexpected surge in cases, adjust guidelines accordingly.
It is important to note that anyone who chooses to wear a mask for either medical reasons or for their personal comfort should, and are encouraged to do so. Dartmouth Health employees are also asked to take colleague, patient and visitor preferences into consideration while interacting with them.
"We ask that individuals practice 'mask mirroring,'" said Michael S. Calderwood, MD, MPH, chief quality officer at Dartmouth Health's Dartmouth Hitchcock Medical Center (DHMC), who has been a trusted voice in the region on COVID-19 mitigation strategies since the beginning of the pandemic, and who was instrumental in the revisions to the masking policy. "In any environment, we encourage respect for masking choices and that is true most especially in healthcare. If those that you're around ask you to wear a mask to help provide additional protection, that is something we've learned to do, and something we would expect our staff to do. We can easily show that courtesy, don the mask, and help to make sure that our patients are feeling comfortable."
A video announcement from Calderwood providing greater context on the considerations that went into the masking policy update may be viewed on the Dartmouth Health YouTube channel. This content is cleared for use by media outlets on all broadcast and digital platforms.
Dartmouth Health facilities updating their masking policy on April 10 include Alice Peck Day Memorial Hospital, Cheshire Medical Center, DHMC, Mt. Ascutney Hospital and Health Center and New London Hospital. The new masking policy became effective at Dartmouth Hitchcock Clinics locations on April 5.
About Dartmouth Health
Dartmouth Health, New Hampshire's only academic health system and the state's largest private employer, serves patients across northern New England. Dartmouth Health provides access to more than 2,000 providers in almost every area of medicine, delivering care at its flagship hospital, Dartmouth Hitchcock Medical Center (DHMC) in Lebanon, NH, as well as across its wide network of hospitals, clinics and care facilities. DHMC is consistently named the #1 hospital in New Hampshire by U.S. News & World Report, and recognized for high performance in numerous clinical specialties and procedures. Dartmouth Health includes Dartmouth Cancer Center, one of only 56 National Cancer Institute-designated Comprehensive Cancer Centers in the nation, and the only such center in northern New England; Dartmouth Health Children's, which includes Children's Hospital at Dartmouth Hitchcock Medical Center, the state's only children's hospital, and multiple clinic locations around the region; member hospitals in Lebanon, Keene and New London, NH, and Bennington and Windsor, VT; Visiting Nurse and Hospice for Vermont and New Hampshire; and more than 24 clinics that provide ambulatory services across New Hampshire and Vermont. Through its historical partnership with Dartmouth and the Geisel School of Medicine, Dartmouth Health trains nearly 400 medical residents and fellows annually, and performs cutting-edge research and clinical trials recognized across the globe with Geisel and the White River Junction VA Medical Center in White River Junction, VT. Dartmouth Health and its more than 13,000 employees are deeply committed to serving the healthcare needs of everyone in our communities, and to providing each of our patients with exceptional, personal care.