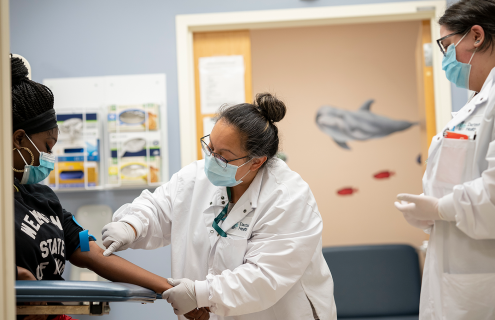 Dartmouth Health's Workforce Readiness Institute (WRI) has launched a new phlebotomist training program to train professionals who will work in hospitals and clinics throughout the Dartmouth Health system. The first cohort of 10 students will begin the six-week training program on Monday, January 9, 2023.
According to the US Bureau of Labor Statistics, employment of phlebotomists is projected to grow 10 percent from 2021 to 2031, faster than the average for all occupations, and about 21,500 openings for phlebotomists are projected each year, on average, over the decade.
Selected participants in the WRI phlebotomist training program will be hired by Dartmouth Health and receive employee pay and benefits while training. Trainees will spend time both in the virtual classroom and in person in the clinic. The program will prepare trainees to sit for the American Society for Clinical Pathology (ASCP) Phlebotomy Technician exam.
"We are excited to introduce this new training program through our Workforce Readiness Institute," said Michael T. Harhen, MBA, MT (ASCP), System Vice President Laboratory. "Phlebotomists perform a critical function within our system, and Dartmouth Health also offers tremendous career growth opportunities. In addition to a competency-based career ladder that supports advancement for phlebotomists, Dartmouth Health offers additional training opportunities in the laboratory setting, leading to roles such as medical laboratory technician, histotechnician, and cytotechnician that can be an excellent next career step."
WRI will hold two virtual phlebotomist training program information sessions in November, as follows:
Tuesday, November 8, 12 pm
Tuesday, November 15, 6 pm
Upon successful completion of the phlebotomist training program and the ASCP Phlebotomy Technician exam, graduates will become certified phlebotomists at one of Dartmouth Health's clinical locations, including Dartmouth Hitchcock Medical Center and Alice Peck Day Hospital in Lebanon, NH; Dartmouth Health Clinics in Manchester, Nashua and Concord, NH; Cheshire Medical Center in Keene, NH; and Mt. Ascutney Hospital and Health Center in Windsor, VT.
"This program is a great way to start a career in healthcare, and we look forward to welcoming our first cohort in January," said Harhen.
For information about the Dartmouth Health Workforce Readiness Institute and its new phlebotomy program, to register for an upcoming information session, and to apply, visit the Workforce Readiness Institute website.
About Dartmouth Health
Dartmouth Health, New Hampshire's only academic health system and the state's largest private employer, serves patients across northern New England. Dartmouth Health provides access to more than 2,000 providers in almost every area of medicine, delivering care at its flagship hospital, Dartmouth Hitchcock Medical Center (DHMC) in Lebanon, NH, as well as across its wide network of hospitals, clinics and care facilities. DHMC is consistently named the #1 hospital in New Hampshire by U.S. News & World Report, and recognized for high performance in numerous clinical specialties and procedures. Dartmouth Health includes Dartmouth Cancer Center, one of only 54 National Cancer Institute-designated Comprehensive Cancer Centers in the nation, and the only such center in northern New England; Dartmouth Health Children's, which includes Children's Hospital at Dartmouth Hitchcock Medical Center, the state's only children's hospital, and multiple clinic locations around the region; member hospitals in Lebanon, Keene and New London, NH, and Bennington and Windsor, VT; Visiting Nurse and Hospice for Vermont and New Hampshire; and more than 24 clinics that provide ambulatory services across New Hampshire and Vermont. Through its historical partnership with Dartmouth and the Geisel School of Medicine, Dartmouth Health trains nearly 400 medical residents and fellows annually, and performs cutting-edge research and clinical trials recognized across the globe with Geisel and the White River Junction VA Medical Center in White River Junction, VT. Dartmouth Health and its more than 13,000 employees are deeply committed to serving the healthcare needs of everyone in our communities, and to providing each of our patients with exceptional, personal care.