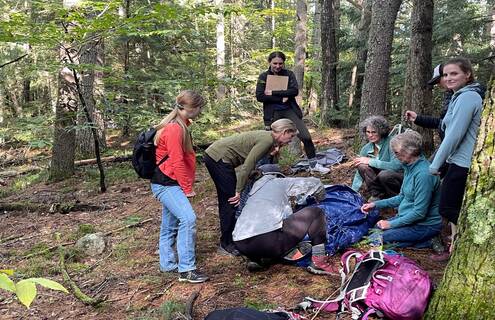 The course is intended to increase situational awareness, apply basic wilderness first aid and manage the risks encountered while recreating or working in austere or wilderness settings.
Debra A. Goodrum, RN
Exploring the great outdoors is one of the best things about living in New Hampshire and Vermont. When taking to the hiking trails, it's important for everyone, and especially medical professionals, to know how to respond when a crisis occurs out in nature. Nurses, EMTs and other healthcare providers got the chance to sharpen their wilderness first aid skills at a two-day conference hosted by Dartmouth Health's Dartmouth Hitchcock Medical Center (DHMC), the most rural academic medical center in the U.S.
"The students taking the class were from a broad range of backgrounds, ranging from camp nurses, LNAs, clinic nurses, to retired nurses, seeking confidence while recreating in the outdoors," said Debra A. Goodrum, RN, a nurse educator at DHMC who facilitated the seminar. "The course is intended to increase situational awareness, apply basic wilderness first aid and manage the risks encountered while recreating or working in austere or wilderness settings. We've created the course as experiential learning, meaning, we have very limited sitting classroom time, instead, the students are trained with hands on scenarios to gain experience as team leaders and resource managers. The best feedback is when the students ask if there is another class as they had the best time learning while being outside."
A total of 23 participants attended the sessions at DHMC on September 29 and 30, learning how to confidently care for themselves and/or distressed people in a wilderness or austere environment. Exercises were conducted inside a DHMC auditorium and on the Boston Lot trail system adjacent to the hospital campus. They included applying splints and tourniquets, treating animal bites and lightning strikes, drowning and avalanche awareness, responding to ski accidents, and making a hypothermia wrap.
Medical professionals who participated in this event said they left feeling prepared to respond in an emergency situation in the wilderness.
"The Wilderness First Aid class was incredibly informative and fun," said Jennifer Martin Benware, RN, a clinical nurse in the Birthing Pavilion at DHMC. "I have always worried while hiking that I'd come across someone injured and not know how to care for them, because wilderness medicine is not my area of expertise as a labor and delivery nurse. I now feel confident in the basic care of injuries while in the woods. The actors made great fake patients, and the instructors made learning easy because they made it fun—there was a lot of laughing!  I can't recommend this course enough for people who like to be outside and adventurous."
About Dartmouth Health
Dartmouth Health, New Hampshire's only academic health system and the state's largest private employer, serves patients across northern New England. Dartmouth Health provides access to more than 2,000 providers in almost every area of medicine, delivering care at its flagship hospital, Dartmouth Hitchcock Medical Center (DHMC) in Lebanon, NH, as well as across its wide network of hospitals, clinics and care facilities. DHMC is consistently named the #1 hospital in New Hampshire by U.S. News & World Report, and recognized for high performance in numerous clinical specialties and procedures. Dartmouth Health includes Dartmouth Cancer Center, one of only 56 National Cancer Institute-designated Comprehensive Cancer Centers in the nation, and the only such center in northern New England; Dartmouth Health Children's, which includes Children's Hospital at Dartmouth Hitchcock Medical Center, the state's only children's hospital, and multiple clinic locations around the region; member hospitals in Lebanon, Keene and New London, NH, and Bennington and Windsor, VT; Visiting Nurse and Hospice for Vermont and New Hampshire; and more than 24 clinics that provide ambulatory services across New Hampshire and Vermont. Through its historical partnership with Dartmouth and the Geisel School of Medicine, Dartmouth Health trains nearly 400 medical residents and fellows annually, and performs cutting-edge research and clinical trials recognized across the globe with Geisel and the White River Junction VA Medical Center in White River Junction, VT. Dartmouth Health and its more than 13,000 employees are deeply committed to serving the healthcare needs of everyone in our communities, and to providing each of our patients with exceptional, personal care.