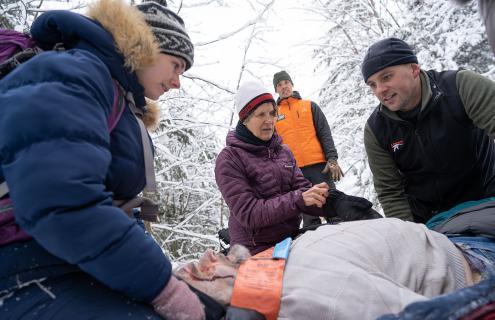 Northern New England's cold, snowy winters and rugged terrain make this area an attractive area of the country for people who enjoy winter sports, like hiking, snowshoeing, skiing and snowboarding. Like any outdoor recreation, these activities come with risks. The extreme conditions they're conducted in—and often alone—mean that in order to do them safely, certain precautions and skills should be learned to avoid mountain tragedies like those that have occurred over the past several months. These are also critical skills for the region's medical professionals who often are called upon to treat individuals who are injured outdoors in the winter in this region.
On January 20 and 21, nurses and emergency medical technicians (EMTs) from Dartmouth Health and beyond took part in Dartmouth Health's first-ever Winter Wilderness First Aid training seminar. Through indoor activities at Dartmouth Hitchcock Medical Center (DHMC) and exercises on the Boston Lot trail network adjacent to DHMC, participants were trained in a cold/winter wilderness or austere setting to use critical thinking, assess situations, make decisions, intervene, manage, communicate with others, and safely care for themselves and/or a distressed person.
"The purpose of this course was to take multiple medical professionals, or those who have some medical background, and help them feel more confident on how to respond and make good decisions in circumstances involving extreme weather," said Debra A. Goodrum, RN, a nurse educator at DHMC who facilitated the seminar. "Our participants also learned how to care for themselves in these situations. These true-to-life scenarios give people the tools to save a life."
The outdoor portion of the two-day training—which happened to fall on a cold and snowy Saturday—included hands-on "Wilderness Olympics" exercises, including simulated scenarios of finding an injured person in a forest, creating "hypo wraps" to treat hypothermia, and building shelters in the woods. Nurses and EMTs who took part in the seminar said they came away from it more confident about how to respond should they or others need assistance in similar situations.
"I was excited to see the Winter Wilderness First Aid class offered," said Lisa Bradshaw, APRN, a palliative care nurse practitioner at Dartmouth Hitchcock Clinics Manchester. "My family and I are pretty active and try to get outside as much as possible during the long New England winters, and safety is always a concern. The class was awesome, the instructors were very knowledgeable and the opportunity to do hands-on activities during the scenarios actually on the trail was excellent. Discussions around preparedness and decision making were so helpful. I felt like I learned some new skills and will be more prepared and confident in the future for our outdoor activities."
Dartmouth Health also offers first aid training courses for healthcare providers in other seasons. The next course will be held in summer 2023. For information, contact Continuing Nursing Education Sr. Program Coordinator Amanda Sanchez at amanda.e.sanchez@hitchcock.org.
About Dartmouth Health
Dartmouth Health, New Hampshire's only academic health system and the state's largest private employer, serves patients across northern New England. Dartmouth Health provides access to more than 2,000 providers in almost every area of medicine, delivering care at its flagship hospital, Dartmouth Hitchcock Medical Center (DHMC) in Lebanon, NH, as well as across its wide network of hospitals, clinics and care facilities. DHMC is consistently named the #1 hospital in New Hampshire by U.S. News & World Report, and recognized for high performance in numerous clinical specialties and procedures. Dartmouth Health includes Dartmouth Cancer Center, one of only 56 National Cancer Institute-designated Comprehensive Cancer Centers in the nation, and the only such center in northern New England; Dartmouth Health Children's, which includes Children's Hospital at Dartmouth Hitchcock Medical Center, the state's only children's hospital, and multiple clinic locations around the region; member hospitals in Lebanon, Keene and New London, NH, and Bennington and Windsor, VT; Visiting Nurse and Hospice for Vermont and New Hampshire; and more than 24 clinics that provide ambulatory services across New Hampshire and Vermont. Through its historical partnership with Dartmouth and the Geisel School of Medicine, Dartmouth Health trains nearly 400 medical residents and fellows annually, and performs cutting-edge research and clinical trials recognized across the globe with Geisel and the White River Junction VA Medical Center in White River Junction, VT. Dartmouth Health and its more than 13,000 employees are deeply committed to serving the healthcare needs of everyone in our communities, and to providing each of our patients with exceptional, personal care.