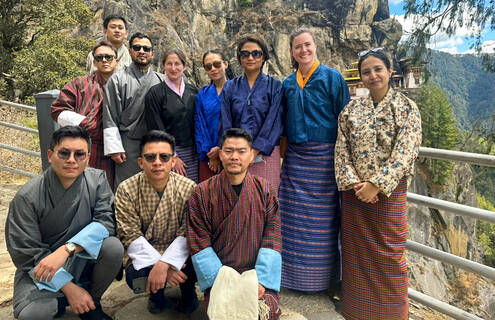 Two Dartmouth Health physicians are at the forefront of bringing life-saving emergency medical education to Bhutan, a south Asian country on the eastern edge of the Himalayas. As part of their efforts, they have launched a pioneering exchange program to send doctors-in-training from Dartmouth Health's Dartmouth Hitchcock Medical Center (DHMC) to Bhutan and, eventually, bring their Bhutanese counterparts to DHMC for similar exchanges.
Emergency medicine as a specialty is in its infancy in Bhutan, a country of 800,000 people in an area slightly smaller than New Hampshire and Vermont combined. Shankar S. LeVine, MD, and Melanie R. Watts, MD, both members of the DHMC emergency medicine staff and assistant professors at Geisel School of Medicine at Dartmouth, have been volunteering in Bhutan since 2018. They stayed on for two more years, consulting with the government on the creation of the country's first emergency medicine residency program, training physicians who were graduates of medical schools outside the country, as Bhutan does not have a medical school of its own. They also were instrumental in setting up training for paramedics, who could extend the expertise of emergency medicine throughout the remote reaches of the country.
"Because of Bhutan's mountainous nature, it can take as much as 18 hours to transfer a patient from one end of the country to the capital city," said Watts.
In that sense, Bhutan's only teaching hospital, in the capital city of Thimphu resembles DHMC in that both are the hub providing care for critically ill or injured patients for a wide region.
As part of their training, resident physicians—medical school graduates who practice under supervision to apply their knowledge in real-life situations—must spend at least one rotation in a community setting that differs from what a major medical center offers. Emergency medicine doctors need to be the "MacGyvers" of the medical world, says LeVine—prepared to provide the best possible care with whatever resources are available, and where the most precious commodity—time—is always in short supply.
Kathleen S. White, MD, a third-year resident at DHMC, returned from a month-long rotation in Bhutan, supervising the care provided by the first group of Bhutanese interns in emergency medicine. Many patients coming in to the emergency room are sicker than patients from the U.S. with similar conditions or injuries. White says many families try traditional medicine first before seeking medical help, and patients from outlying areas are transported without medical monitoring as the country has only a handful of newly-trained paramedics. The main hospital has most of the diagnostic tools—MRIs, CAT scans and lab tests—as in the U.S., but they are not always available.
"I had to be more judicious in the tests I could order," White said, adding she sharpened her skills at listening and interacting with patients. "Because you don't order as many tests, you have to rely more on the patient histories."
Another DHMC resident, Michael C. Drake, MD, heads to Bhutan in October. Watts and LeVine have negotiated an agreement between Dartmouth Health and Bhutan's national health system to exchange residents and faculty going forward and they hope to overcome bureaucratic and financial hurdles to bring several Bhutanese doctors to DHMC next year.
About Dartmouth Health
Dartmouth Health, New Hampshire's only academic health system and the state's largest private employer, serves patients across northern New England. Dartmouth Health provides access to more than 2,000 providers in almost every area of medicine, delivering care at its flagship hospital, Dartmouth Hitchcock Medical Center (DHMC) in Lebanon, NH, as well as across its wide network of hospitals, clinics and care facilities. DHMC is consistently named the #1 hospital in New Hampshire by U.S. News & World Report, and recognized for high performance in numerous clinical specialties and procedures. Dartmouth Health includes Dartmouth Cancer Center, one of only 54 National Cancer Institute-designated Comprehensive Cancer Centers in the nation, and the only such center in northern New England; Dartmouth Health Children's, which includes Children's Hospital at Dartmouth Hitchcock Medical Center, the state's only children's hospital, and multiple clinic locations around the region; member hospitals in Lebanon, Keene and New London, NH, and Bennington and Windsor, VT; Visiting Nurse and Hospice for Vermont and New Hampshire; and more than 24 clinics that provide ambulatory services across New Hampshire and Vermont. Through its historical partnership with Dartmouth and the Geisel School of Medicine, Dartmouth Health trains nearly 400 medical residents and fellows annually, and performs cutting-edge research and clinical trials recognized across the globe with Geisel and the White River Junction VA Medical Center in White River Junction, VT. Dartmouth Health and its more than 13,000 employees are deeply committed to serving the healthcare needs of everyone in our communities, and to providing each of our patients with exceptional, personal care.