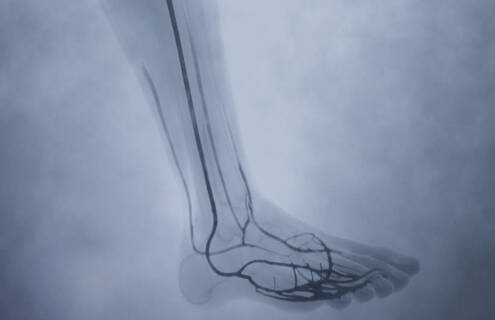 The ability to offer this treatment to our patients at DHMC gives tremendous potential to preserve and even improve their quality of life.
Jocelyn M. Beach, MD
November marks American Diabetes Month, a time to raise awareness and promote research related to diabetes. One of the more devastating impacts of the disease many diabetics face is chronic limb-threatening ischemia (CLTI), often requiring amputation of the foot. A state-of-the-art procedure now available through the Heart & Vascular Center at Dartmouth Health's Dartmouth Hitchcock Medical Center (DHMC) offers the chance of limb preservation for many patients who otherwise might be destined for amputation.
LimFlow is a minimally invasive technology designed to divert blood around diseased arteries in the leg and into the tibial veins that feed the foot, bringing blood and oxygen to starved tissues in the foot. The procedure works by implanting a stent in the patient's leg that permanently bypasses arteries that are blocked and cannot be reconstructed. An abundance of oxygen in the tissue can immediately relieve pain and promote healing of chronic wounds for many patients, improving their quality of life. DHMC is the only hospital in northern New England (New Hampshire, Vermont and Maine) to offer LimFlow, and only one of two in all New England and just 25 nationally.
DHMC patient Robert McBride, 72, of Bellows Falls, VT, has lived with type 1 diabetes for 58 years and grew concerned when a small wound on his left big toe was failing to heal. When hyperbaric treatment was ineffective, McBride's vascular surgeon, Jocelyn M. Beach, MD, recommended he have the LimFlow procedure.
"The wound was just getting worse to the point that it almost hit bone in my toe," McBride said. "While Dr. Beach did have to amputate my toe, had I not had the LimFlow procedure, I probably would have lost my entire left foot eventually."
In addition to saving his foot, McBride said LimFlow caused his oxygen levels to improve dramatically, from the low 30s to the high 50s.
"I want everyone who might be in danger of losing their foot, like I was, to look into LimFlow, especially folks like me in rural New England who might think they'd have to travel far to Boston or New York for a surgery like this," McBride said. "I received truly outstanding care and attention to my issue from the team at DHMC, and this procedure really changed my life."
"Amputation is a drastic measure, but before procedures like LimFlow, it was often the only option for patients like Mr. McBride," said Beach, who serves as principal investigator of a clinical trial of LimFlow at DHMC. "The ability to offer this treatment to our patients at DHMC gives tremendous potential to preserve and even improve their quality of life."
For more information on LimFlow at DHMC, visit https://bit.ly/3QoYFDc.
About Dartmouth Health
Dartmouth Health, New Hampshire's only academic health system and the state's largest private employer, serves patients across northern New England. Dartmouth Health provides access to more than 2,000 providers in almost every area of medicine, delivering care at its flagship hospital, Dartmouth Hitchcock Medical Center (DHMC) in Lebanon, NH, as well as across its wide network of hospitals, clinics and care facilities. DHMC is consistently named the #1 hospital in New Hampshire by U.S. News & World Report, and recognized for high performance in numerous clinical specialties and procedures. Dartmouth Health includes Dartmouth Cancer Center, one of only 56 National Cancer Institute-designated Comprehensive Cancer Centers in the nation, and the only such center in northern New England; Dartmouth Health Children's, which includes Children's Hospital at Dartmouth Hitchcock Medical Center, the state's only children's hospital, and multiple clinic locations around the region; member hospitals in Lebanon, Keene and New London, NH, and Bennington and Windsor, VT; Visiting Nurse and Hospice for Vermont and New Hampshire; and more than 24 clinics that provide ambulatory services across New Hampshire and Vermont. Through its historical partnership with Dartmouth and the Geisel School of Medicine, Dartmouth Health trains nearly 400 medical residents and fellows annually, and performs cutting-edge research and clinical trials recognized across the globe with Geisel and the White River Junction VA Medical Center in White River Junction, VT. Dartmouth Health and its more than 13,000 employees are deeply committed to serving the healthcare needs of everyone in our communities, and to providing each of our patients with exceptional, personal care.