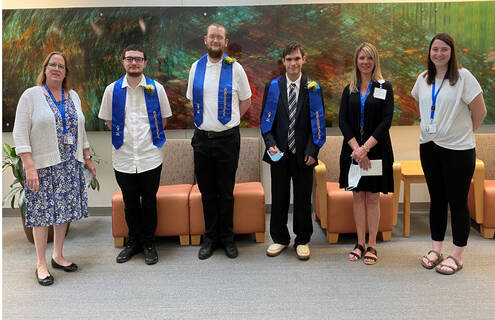 We are honored to be recognized by Project SEARCH for our program's success in placing participants in meaningful jobs after graduation.
Carolyn Isabelle, director of workforce development, Dartmouth Health
Since 2011, Dartmouth Health's Dartmouth Hitchcock Medical Center (DHMC) has been a host site for Project SEARCH, an innovative skills training and job preparation internship program for people with intellectual disabilities. The program was recently recognized by the Project SEARCH organization for achieving 100 percent employment placement for students who participated in its 2021-2022 internship class. DHMC's Project SEARCH program was one of 78 in the U.S. to be honored at Project SEARCH's 16th Annual Conference in Milwaukee, WI, in July. DHMC is one of 600 Project SEARCH host sites worldwide.
The Project SEARCH school-to-work internship program is a unique, business-led, one-year program that takes place entirely at a host workplace, such as DHMC, and interns experience total immersion in their host workplace, as well as classroom instruction, career exploration and hands-on training through worksite rotations. The primary goal of the program is for each young adult to build skills that will lead to competitive employment.
DHMC Project SEARCH participants acquire competitive, marketable and transferable skills which enable them to apply for a wide array of work positions related to their training through a series of three 10-week targeted internships within the hospital. Students also work on soft skills, such as communication, teamwork and problem-solving, all of which are important for their overall development as employees. Although there is a classroom component with a formal curriculum, interns spend the majority of their time building employment skills through hands-on experiences.
"We are honored to be recognized by Project SEARCH for our program's success in placing participants in meaningful jobs after graduation," said Carolyn Isabelle, director of workforce development at Dartmouth Health. "Our program offers participants significant hands-on learning opportunities throughout the hospital with support from their instructor, job coach and members of each department. It is always gratifying to see students blossom as they gain job skills and self-confidence over the course of the year."
The DHMC Project SEARCH program is administered collaboratively by several local health and social services-focused organizations, including the Hartford, VT, school district, Vermont HireAbility, New Hampshire Vocational Rehabilitation and Lincoln Street, Inc.
"I was really grateful when they announced our program as one of the prize recipients," noted Bart Mair, assistant executive director for Lincoln Street Inc. "I continue to be proud of our Project SEARCH program and its contributions to our regional workforce and look forward to welcoming our incoming class in early September."
The DHMC Project SEARCH program also achieved 100 percent graduate employment placement in 2022-2023.
Founded in 1996, Project SEARCH has grown from a single program site at Cincinnati Children's Hospital in Cincinnati, OH, to a large and continuously expanding international network of more than 600 sites around the world. Project SEARCH's primary objective is to secure competitive employment for people with intellectual disabilities.
For more information about Project SEARCH at DHMC, visit https://www.dartmouth-hitchcock.org/about/project-search.
About Dartmouth Health
Dartmouth Health, New Hampshire's only academic health system and the state's largest private employer, serves patients across northern New England. Dartmouth Health provides access to more than 2,000 providers in almost every area of medicine, delivering care at its flagship hospital, Dartmouth Hitchcock Medical Center (DHMC) in Lebanon, NH, as well as across its wide network of hospitals, clinics and care facilities. DHMC is consistently named the #1 hospital in New Hampshire by U.S. News & World Report, and recognized for high performance in numerous clinical specialties and procedures. Dartmouth Health includes Dartmouth Cancer Center, one of only 56 National Cancer Institute-designated Comprehensive Cancer Centers in the nation, and the only such center in northern New England; Dartmouth Health Children's, which includes Children's Hospital at Dartmouth Hitchcock Medical Center, the state's only children's hospital, and multiple clinic locations around the region; member hospitals in Lebanon, Keene and New London, NH, and Bennington and Windsor, VT; Visiting Nurse and Hospice for Vermont and New Hampshire; and more than 24 clinics that provide ambulatory services across New Hampshire and Vermont. Through its historical partnership with Dartmouth and the Geisel School of Medicine, Dartmouth Health trains nearly 400 medical residents and fellows annually, and performs cutting-edge research and clinical trials recognized across the globe with Geisel and the White River Junction VA Medical Center in White River Junction, VT. Dartmouth Health and its more than 13,000 employees are deeply committed to serving the healthcare needs of everyone in our communities, and to providing each of our patients with exceptional, personal care.