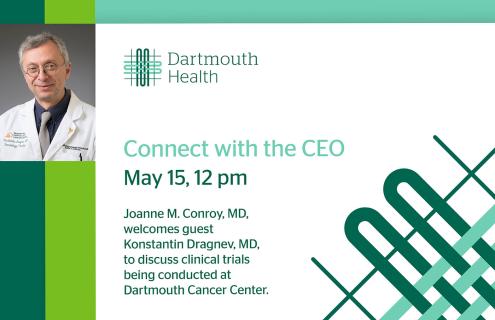 When someone receives a cancer diagnosis, they're faced with a slew of fears, concerns, questions and considerations. More often than not, where and how they'll be treated for their disease is a top priority, and access to clinical trials that may be beneficial to the patient can be a major factor in deciding where to receive treatment. Major urban centers like Boston and New York are well-known medical hubs, but residents of New Hampshire and Vermont need not leave their states for cutting-edge cancer care. As a National Cancer Institute-designated Comprehensive Cancer Center—one of just 53 nationwide, and one of three in New England—Dartmouth Cancer Center offers the exceptional care and resources of an academic medical system and access to clinical trials that offer hope to people facing cancer now, and the potential to help many more people in the future.
In Dartmouth Health's next "Connect with the CEO" live segment on Monday May 15, at 12 pm, CEO and president Joanne M. Conroy, MD, will be joined by Konstantin H. Dragnev, MD, associate director for clinical research at Dartmouth Cancer Center, for a conversation about clinical trials at Dartmouth Cancer Center. Conroy and Dragnev will be discussing clinical trials at Dartmouth Cancer Center, how patients can benefit from clinical trials, and the importance of having a NCI-designated Comprehensive Cancer Center in New Hampshire.
"As an NCI designee, part of our charge at Dartmouth Cancer Center is to advance and develop new treatments here in our region and beyond," Dragnev said. "We have a robust system in place to support clinical trials not just at the main campus in Lebanon, but at various satellites sites, from down into southern New Hampshire all the way up to St. Johnsbury, VT. People living with cancer and their loved ones face enough hardships as it is; traveling to New York, Boston or another faraway metro area to get the best care shouldn't have to be part of their struggles. We want everyone in New Hampshire and Vermont to know that, should they get a cancer diagnosis, not only can they get top-notch care and clinical trials close to home, but they can even be part of clinical trials being offered only at Dartmouth Cancer Center at this time. I look forward to my conversation with Dr. Conroy about the work we are doing to save lives and promoting this important information to people around our region."
To watch the segment live, visit the Dartmouth Health Facebook page at noon. The chat function on the live video will be open and viewers who are logged into Facebook will be able to submit questions via the chat. For those unable to watch live at noon, an archived version will be available later on Facebook and Dartmouth Health's YouTube channel. Questions may be submitted in advance to social@hitchcock.org.
About Dartmouth Health
Dartmouth Health, New Hampshire's only academic health system and the state's largest private employer, serves patients across northern New England. Dartmouth Health provides access to more than 2,000 providers in almost every area of medicine, delivering care at its flagship hospital, Dartmouth Hitchcock Medical Center (DHMC) in Lebanon, NH, as well as across its wide network of hospitals, clinics and care facilities. DHMC is consistently named the #1 hospital in New Hampshire by U.S. News & World Report, and recognized for high performance in numerous clinical specialties and procedures. Dartmouth Health includes Dartmouth Cancer Center, one of only 56 National Cancer Institute-designated Comprehensive Cancer Centers in the nation, and the only such center in northern New England; Dartmouth Health Children's, which includes Children's Hospital at Dartmouth Hitchcock Medical Center, the state's only children's hospital, and multiple clinic locations around the region; member hospitals in Lebanon, Keene and New London, NH, and Bennington and Windsor, VT; Visiting Nurse and Hospice for Vermont and New Hampshire; and more than 24 clinics that provide ambulatory services across New Hampshire and Vermont. Through its historical partnership with Dartmouth and the Geisel School of Medicine, Dartmouth Health trains nearly 400 medical residents and fellows annually, and performs cutting-edge research and clinical trials recognized across the globe with Geisel and the White River Junction VA Medical Center in White River Junction, VT. Dartmouth Health and its more than 13,000 employees are deeply committed to serving the healthcare needs of everyone in our communities, and to providing each of our patients with exceptional, personal care.