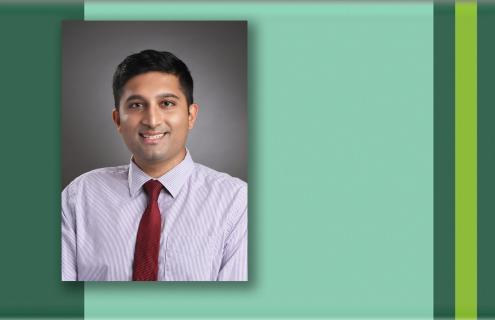 Epilepsy is a disorder that can cause seizures (abnormal electrical activity in the brain). Epilepsy can be caused by many things, including brain injury or family history. Most forms of epilepsy can be treated without surgery. The earlier epilepsy is diagnosed and treated, the better the outcome. As home of New Hampshire's only Level 4 epilepsy center at Dartmouth Health's Dartmouth Hitchcock Medical Center, Dartmouth Health is uniquely poised to provide epilepsy patients with the specialized care they need and live as normal lives as possible.
Dartmouth Health will host an installment of its Healthy Living Series on Wednesday, December 14, from 6 to 7 pm, on the treatment and management of epilepsy. Neurologist Rohit K. Reddy, MD, of Dartmouth Hitchcock Clinics Concord, who specializes in epilepsy treatment and surgery, will offer information on:
Testing for epilepsy
Treatment options, including neurostimulation
Managing anti-seizure medications
Special considerations for epilepsy patients, including women of reproductive age
Reddy will also take questions from participants.
"As a neurologist, I am passionate about helping my patients live their best lives with epilepsy," Reddy said. "I am excited for this opportunity to help educate people living with epilepsy and their loved ones about the options and resources available to them, empowering them to live happy, healthy lives."
Registration for this virtual event is free and open to the public. Register online.
About Dartmouth Health
Dartmouth Health, New Hampshire's only academic health system and the state's largest private employer, serves patients across northern New England. Dartmouth Health provides access to more than 2,000 providers in almost every area of medicine, delivering care at its flagship hospital, Dartmouth Hitchcock Medical Center (DHMC) in Lebanon, NH, as well as across its wide network of hospitals, clinics and care facilities. DHMC is consistently named the #1 hospital in New Hampshire by U.S. News & World Report, and recognized for high performance in numerous clinical specialties and procedures. Dartmouth Health includes Dartmouth Cancer Center, one of only 56 National Cancer Institute-designated Comprehensive Cancer Centers in the nation, and the only such center in northern New England; Dartmouth Health Children's, which includes Children's Hospital at Dartmouth Hitchcock Medical Center, the state's only children's hospital, and multiple clinic locations around the region; member hospitals in Lebanon, Keene and New London, NH, and Bennington and Windsor, VT; Visiting Nurse and Hospice for Vermont and New Hampshire; and more than 24 clinics that provide ambulatory services across New Hampshire and Vermont. Through its historical partnership with Dartmouth and the Geisel School of Medicine, Dartmouth Health trains nearly 400 medical residents and fellows annually, and performs cutting-edge research and clinical trials recognized across the globe with Geisel and the White River Junction VA Medical Center in White River Junction, VT. Dartmouth Health and its more than 13,000 employees are deeply committed to serving the healthcare needs of everyone in our communities, and to providing each of our patients with exceptional, personal care.