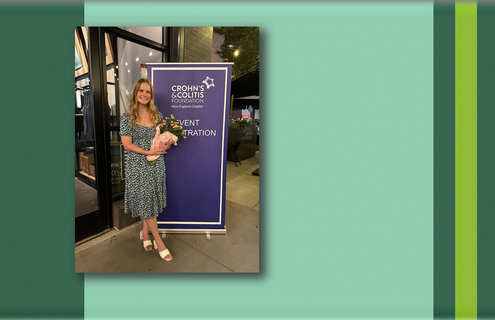 A resident physician at Dartmouth Health's Dartmouth Hitchcock Medical Center (DHMC) was recently honored for her work to improve the lives of patients with inflammatory bowel disease (IBD). Jamie M. Horrigan, MD, chief resident in internal medicine, was recognized by the Crohn's & Colitis Foundation New England Chapter as the 2023 Rising Community Leader in IBD.
Horrigan was honored at the Crohn's & Colitis Foundation's annual "Stories from the Gut" event on August 2. She was nominated by members of the Crohn's & Colitis Foundation Young Professionals Committee for her Instagram account and blog, Sweetened by Nature, where she shares healthy recipes, lifestyle tips, and more to help those with IBD live their healthiest lives. As part of her advocacy, Horrigan is fundraising for the Crohn's & Colitis Foundation and has exceeded her $5,000 goal by raising $8,000.
"As a Crohn's patient myself, this recognition means a great deal to me," said Horrigan, who is applying for a fellowship in gastroenterology. "People living with IBD can have a significant symptom burden and may go through quite the journey to reach a diagnosis and control their disease. Many are also interested in incorporating nutrition into their treatment plan, which is something I am very passionate about. I became a doctor so I could listen to and care for my patients, and advocate for their health. The Crohn's & Colitis Foundation does incredible work to improve the lives of people living with these conditions, and I'm truly honored to contribute to their mission."
"Dr. Horrigan is already involved in the IBD community in a number of ways including patient care, advocacy, research and philanthropy. As she continues her training as a gastroenterologist, IBD specialist and researcher, she will become an incredibly powerful asset to the field of IBD by being an expert academic gastroenterologist and an expert in what it is like living with Crohn's disease as a patient herself," said Corey A. Siegel, MD, MS, section chief of gastroenterology and hepatology at DHMC. "We are very proud to have her on our team and representing Dartmouth Health."
About Dartmouth Health
Dartmouth Health, New Hampshire's only academic health system and the state's largest private employer, serves patients across northern New England. Dartmouth Health provides access to more than 2,000 providers in almost every area of medicine, delivering care at its flagship hospital, Dartmouth Hitchcock Medical Center (DHMC) in Lebanon, NH, as well as across its wide network of hospitals, clinics and care facilities. DHMC is consistently named the #1 hospital in New Hampshire by U.S. News & World Report, and recognized for high performance in numerous clinical specialties and procedures. Dartmouth Health includes Dartmouth Cancer Center, one of only 54 National Cancer Institute-designated Comprehensive Cancer Centers in the nation, and the only such center in northern New England; Dartmouth Health Children's, which includes Children's Hospital at Dartmouth Hitchcock Medical Center, the state's only children's hospital, and multiple clinic locations around the region; member hospitals in Lebanon, Keene and New London, NH, and Bennington and Windsor, VT; Visiting Nurse and Hospice for Vermont and New Hampshire; and more than 24 clinics that provide ambulatory services across New Hampshire and Vermont. Through its historical partnership with Dartmouth and the Geisel School of Medicine, Dartmouth Health trains nearly 400 medical residents and fellows annually, and performs cutting-edge research and clinical trials recognized across the globe with Geisel and the White River Junction VA Medical Center in White River Junction, VT. Dartmouth Health and its more than 13,000 employees are deeply committed to serving the healthcare needs of everyone in our communities, and to providing each of our patients with exceptional, personal care.