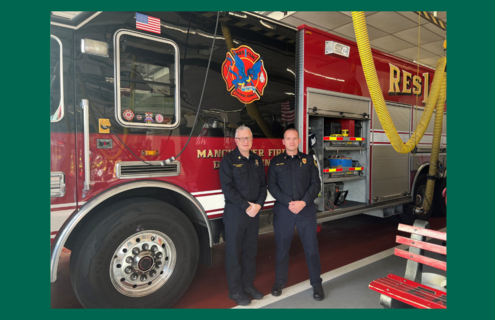 A cancer screening pilot program in partnership with Dartmouth Health, Manchester Fire Department and Anthem Blue Cross and Blue Shield proved lifesaving as screening results were shared at a news event held at Manchester Central Fire Department on November 20, 2023.
"Due to this early screening program, one department member is cancer-free today," said Chief Ryan J. Cashin of the Manchester Fire Department (MFD). "Every day, the Manchester Fire Department responds to the citizens of this great city with the single purpose of saving lives. It is an honor to announce that we saved the life of one of our own members."
Fire Marshal Peter J. Lennon, CFI, lung screening showed incidental findings which triggered the need for additional blood work. Follow-up results detected stage 2 colon cancer on September 11, 2023. Lennon, 45, underwent colon surgery and is now cancer-free and back to the firehouse thanks to the early detection. "My doctors told me I would have had less than five years to live if the cancer went undetected. I'm thankful for the efforts of Dartmouth Health, MFD and the City of Manchester for spearheading this life-saving program."
The program launched in May 2023 with the goal of screening eligible active firefighters for skin and lung cancer, two of the most common among firefighters. Results from the screening:
120 Firefighters received a Low Dose Lung CT Scan; 16 of those were referred to Dartmouth Hitchcock Clinics Manchester Pulmonary Medicine for follow-up.

184 Firefighters received a dermatology screening; 22 of those were referred to Dartmouth Hitchcock Clinics Manchester Dermatology for follow-up.
"In keeping with the mission of Dartmouth Health, to provide the best possible care and the promotion of health initiatives throughout the communities of New Hampshire it serves, we have been proud to be part of this important pilot program of cancer screening for Manchester Firefighters," said Todd A. Noce, DO, Regional Medical Director of Radiology, Dartmouth Hitchcock Clinics Southern Region. "The duties of being a firefighter not only puts them in immediate risk of harm, but also long term health risk of cancer from repeated environmental exposures. To see that this screening program has already provided successful early detection of cancer to the members of the Manchester Fire Department is a testament to the importance of such a program and highlights the need to provide expanded cancer screening to fire departments throughout the state of New Hampshire."
Every day, Manchester Firefighters put their own safety on the line to protect the lives and property of others. Research shows that firefighters are also at increased risk of developing certain cancers as a likely result of the numerous chemicals that they are exposed to on the job and in their protective clothing. According to the IAFF, cancer is now the leading cause of death among firefighters and accounts for more than 65% of line-of-duty deaths recorded each year.
"The City of Manchester stands with the Manchester Fire Department — and all our first responders — as they put their lives on the line to protect ours," said Mayor Joyce Craig. "This first-in-the-state early cancer screening program is doing exactly what we had hoped, identifying cancer at an early stage, allowing for faster and more effective treatment. I applaud our partners at Dartmouth Health, Anthem Blue Cross and Blue Shield, and leadership at MFD who have made this program possible. I hope other cities, and the entire State of New Hampshire, adopt this program and invest in the health and well-being of firefighters."
"Preventive care is critical to improving health outcomes – and as we've seen with this cancer screening pilot program, early detection saves lives," said Maria Proulx, president of Anthem Blue Cross and Blue Shield in New Hampshire. "As the city's health insurance partner, Anthem Blue Cross and Blue Shield has been proud to work with Dartmouth Health and the City to support this vital program and the heroes who serve our city."
About Dartmouth Health
Dartmouth Health, New Hampshire's only academic health system and the state's largest private employer, serves patients across northern New England. Dartmouth Health provides access to more than 2,000 providers in almost every area of medicine, delivering care at its flagship hospital, Dartmouth Hitchcock Medical Center (DHMC) in Lebanon, NH, as well as across its wide network of hospitals, clinics and care facilities. DHMC is consistently named the #1 hospital in New Hampshire by U.S. News & World Report, and recognized for high performance in numerous clinical specialties and procedures. Dartmouth Health includes Dartmouth Cancer Center, one of only 56 National Cancer Institute-designated Comprehensive Cancer Centers in the nation, and the only such center in northern New England; Dartmouth Health Children's, which includes Children's Hospital at Dartmouth Hitchcock Medical Center, the state's only children's hospital, and multiple clinic locations around the region; member hospitals in Lebanon, Keene and New London, NH, and Bennington and Windsor, VT; Visiting Nurse and Hospice for Vermont and New Hampshire; and more than 24 clinics that provide ambulatory services across New Hampshire and Vermont. Through its historical partnership with Dartmouth and the Geisel School of Medicine, Dartmouth Health trains nearly 400 medical residents and fellows annually, and performs cutting-edge research and clinical trials recognized across the globe with Geisel and the White River Junction VA Medical Center in White River Junction, VT. Dartmouth Health and its more than 13,000 employees are deeply committed to serving the healthcare needs of everyone in our communities, and to providing each of our patients with exceptional, personal care.