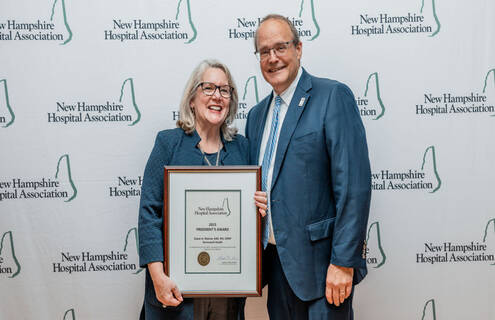 Throughout my 40-plus-year career with Dartmouth Health, it's been an honor to work across New Hampshire with my NHHA colleagues to improve healthcare for all Granite Staters.
Susan A. Reeves, EdD, RN, CENP
The executive vice president of Dartmouth Health's Dartmouth Hitchcock Medical Center (DHMC) was honored at the New Hampshire Hospital Association's (NHHA) annual meeting on Monday, October 16. Susan A. Reeves, EdD, RN, CENP, received the Leslie A. Smith President's Award.
"During the pandemic, Dr. Reeves was focused on crisis standards of care—not just for her own hospital, but she wanted to make sure that all hospitals were aligned and supported," said Steve Ahnen, CEO and president of NHHA. "Her motto was: 'No one invokes crisis standards alone. We all work together to address and mitigate the pressure points from patient COVID-19 volumes at all hospitals across the state.' This became something we all adopted, and I can personally attest to how powerful that made all of us during high pressure and chaotic times. Her interests in public health, quality, patient safety and organizational ethics exemplify her as a superior leader and role model across the state."
The President's Award is given to an individual who has made an exceptional contribution to the organization. The recipient is chosen for their dedicated service to the affairs, management, and/or creative growth of NHHA and its members, and must be an NHHA member, affiliate, volunteer, or employee whose service continually brings credit to the field of healthcare in New Hampshire.
Reeves, who is also the chief nursing executive of the Dartmouth Health system, has served as DHMC's executive vice president since 2020. Her involvement with Dartmouth Health stretches back to 1980, when she received her nursing diploma from the former Mary Hitchcock Memorial Hospital School of Nursing. Early in her career, her clinical specialty was medical oncology, with a sub-specialty in radiation oncology nursing. She went on to serve on the Senior Leadership Team, where she was administratively responsible for the inpatient hospital, DHMC and Dartmouth Cancer Center, and the DHMC Emergency Services programs.
"Receiving the President's Award was a complete surprise and I am humbled by this recognition from my colleagues," Reeves said. "Throughout my 40-plus-year career with Dartmouth Health, it's been an honor to work across New Hampshire with my NHHA colleagues to improve healthcare for all Granite Staters. My sincere thanks goes to all of them, and our teams at DHMC, who are a true model for outstanding healthcare practice in New Hampshire and beyond."
About Dartmouth Health
Dartmouth Health, New Hampshire's only academic health system and the state's largest private employer, serves patients across northern New England. Dartmouth Health provides access to more than 2,000 providers in almost every area of medicine, delivering care at its flagship hospital, Dartmouth Hitchcock Medical Center (DHMC) in Lebanon, NH, as well as across its wide network of hospitals, clinics and care facilities. DHMC is consistently named the #1 hospital in New Hampshire by U.S. News & World Report, and recognized for high performance in numerous clinical specialties and procedures. Dartmouth Health includes Dartmouth Cancer Center, one of only 56 National Cancer Institute-designated Comprehensive Cancer Centers in the nation, and the only such center in northern New England; Dartmouth Health Children's, which includes Children's Hospital at Dartmouth Hitchcock Medical Center, the state's only children's hospital, and multiple clinic locations around the region; member hospitals in Lebanon, Keene and New London, NH, and Bennington and Windsor, VT; Visiting Nurse and Hospice for Vermont and New Hampshire; and more than 24 clinics that provide ambulatory services across New Hampshire and Vermont. Through its historical partnership with Dartmouth and the Geisel School of Medicine, Dartmouth Health trains nearly 400 medical residents and fellows annually, and performs cutting-edge research and clinical trials recognized across the globe with Geisel and the White River Junction VA Medical Center in White River Junction, VT. Dartmouth Health and its more than 13,000 employees are deeply committed to serving the healthcare needs of everyone in our communities, and to providing each of our patients with exceptional, personal care.