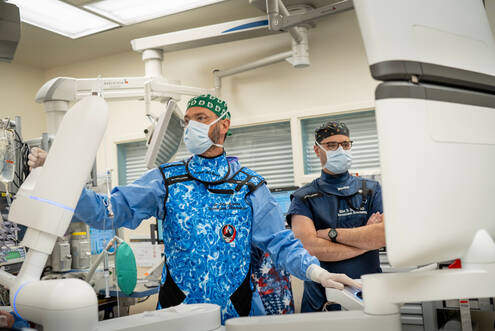 Dartmouth Health's interventional pulmonology team has seen an increase in successful lung biopsy procedures over the past year, in part, due to their use of robotic bronchoscopy. The measurement of successful biopsy, known as diagnostic yield, is higher at Dartmouth Health than the national average. This is key to improving patient outcomes since detecting lung cancer early through yearly screening can reduce lung cancer-related mortality rates by 20 percent.
The robotic platform is often used instead of a computed tomography (CT)-guided needle biopsy, which can be a higher risk procedure in some patients. The robotic technology enables specialists to biopsy patients with smaller pulmonary nodules (rounded growths in the lungs) than was previously possible. This means physicians are more likely to catch cancer earlier and begin treatment sooner, which can make a significant improvement in a patient's prognosis. Biopsying a lung nodule bronchoscopically also allows for the sampling of lymph nodes in the chest (known as "staging") during the same procedure. Staging is considered a critical step in the care of patients with lung cancer.
"The chances of finding and sampling a small nodule in the lung are better than perhaps ever before," said Elliot D. Backer, MD, Director of Interventional Pulmonology at Dartmouth Health's Dartmouth Hitchcock Medical Center (DHMC). "Before adopting the robotics platform, this was very hard to do. Now, we can more safely and more accurately diagnose patients at an earlier stage than was previously possible."
When Dartmouth Health adopted robotic bronchoscopy in April 2022, it was the first in New Hampshire or Maine to do so. The Interventional Pulmonology team has performed more than 200 procedures using the platform since then.
"One of the many benefits of being an academic health system means Dartmouth Health is at the forefront of the latest procedures, technologies and treatments," said David J. Feller-Kopman, MD, Section Chief of Pulmonary and Critical Care Medicine at DHMC. "That can make a big difference when it comes to patient outcomes."
As part of the multidisciplinary Comprehensive Thoracic Oncology Program (CTOP) at Dartmouth Cancer Center, Backer and Feller-Kopman are New Hampshire's only interventional pulmonologists. These specially trained pulmonologists can use the robotic platform to navigate a patient's airway through the throat with a 3.5-mm-diameter catheter, guided by a small camera and a three-dimensional map of the lung created from a CT scan. Once they locate the nodule of interest, a biopsy needle is fed through the catheter to retrieve the tissue. When a diagnosis is made, a patient's case is reviewed by Dartmouth Health's thoracic surgeons and cancer specialists to provide prompt, state-of-the art, multidisciplinary care.
Catching lung cancer early is critical for treatment, but not enough people are undergoing lung cancer screening. According to the American Lung Association, only about 11 percent of those at high risk for lung cancer were screened in New Hampshire in 2021.
Visit the Dartmouth Cancer Center website to learn more about the importance of early detection, and find out if you might be eligible for an insurance-covered early lung screening.
About Dartmouth Cancer Center
Dartmouth Cancer Center combines advanced cancer research at Dartmouth and the Geisel School of Medicine, with award-winning, personalized, and compassionate patient-centered cancer care and clinical trials based at the Norris Cotton Cancer Care Pavilion at Dartmouth Health's Dartmouth Hitchcock Medical Center. With 14 locations around New Hampshire and Vermont, Dartmouth Cancer Center is one of only 56 National Cancer Institute-designated Comprehensive Cancer Centers. Each year the Dartmouth Cancer Center schedules 74,000 appointments seeing more than 4,500 newly diagnosed patients, and currently offers patients more than 240 active clinical trials. Celebrating its 50th anniversary in 2022, Dartmouth Cancer Center remains committed to excellence, outreach and education. We strive to prevent and cure cancer, enhance survivorship and to promote cancer health equity through pioneering interdisciplinary research and collaborations. Learn more at the Dartmouth Cancer Center website.
About Dartmouth Health
Dartmouth Health, New Hampshire's only academic health system and the state's largest private employer, serves patients across northern New England. Dartmouth Health provides access to more than 2,000 providers in almost every area of medicine, delivering care at its flagship hospital, Dartmouth Hitchcock Medical Center (DHMC) in Lebanon, NH, as well as across its wide network of hospitals, clinics and care facilities. DHMC is consistently named the #1 hospital in New Hampshire by U.S. News & World Report, and recognized for high performance in numerous clinical specialties and procedures. Dartmouth Health includes Dartmouth Cancer Center, one of only 56 National Cancer Institute-designated Comprehensive Cancer Centers in the nation, and the only such center in northern New England; Dartmouth Health Children's, which includes Children's Hospital at Dartmouth Hitchcock Medical Center, the state's only children's hospital, and multiple clinic locations around the region; member hospitals in Lebanon, Keene and New London, NH, and Bennington and Windsor, VT; Visiting Nurse and Hospice for Vermont and New Hampshire; and more than 24 clinics that provide ambulatory services across New Hampshire and Vermont. Through its historical partnership with Dartmouth and the Geisel School of Medicine, Dartmouth Health trains nearly 400 medical residents and fellows annually, and performs cutting-edge research and clinical trials recognized across the globe with Geisel and the White River Junction VA Medical Center in White River Junction, VT. Dartmouth Health and its more than 13,000 employees are deeply committed to serving the healthcare needs of everyone in our communities, and to providing each of our patients with exceptional, personal care.